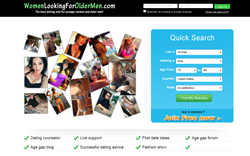 Welcome to WomenLookingForOlderMen.com® - The best dating site for younger women and older men.
USA,UK,Canada,Australia (PRWEB) November 20, 2014
The month of November marked the launch of another niche dating site for younger women who are looking for older men. The website aims to revolutionize the ageless dating experience of users by providing a feature rich dating platform at a very affordable price.
Interacting with the media, project head of WomenLookingForOlderMen.com Daniel said, "We are very pleased to launch this website. This project is a result of countless sleepless nights and a lot of consumer research, which enabled us to know about what younger women and older men look for in a dating site. The team behind this site has tried its best to incorporate as many features as possible in order to make the user experience seamless and hassle free."
With the trend of age gap relationships catching up, many websites have emerged that claim to cater to the needs of younger women and older men. Although a few websites have been successful in accomplishing their goals, others haven't been able to keep up to their promise. With the competition getting tougher, it remains to be seen how the audience responds to the launch of WomenLookingForOlderMen.com.
Dating experts claim that younger women - older men dating have become very popular of late. "Who doesn't wish for a secure future? Younger women not only look for a mature man who can share their valuable experiences with them but also someone who is financially sound. In fact, these reasons have contributed to a significant rise in age gap relationships", said Los Angeles based dating counselor Isabelle Lawrence.
WomenLookingForOlderMen.com provides free basic membership which can later be upgraded to premium. As a free member on this site, users can create a profile, add a few attractive pictures, send pre – defined messages to other users and search for a compatible match. Standard members can also write blogs and check out the ones posted by other registered users. In addition to this, they would also be able to contribute on the forums page.
WomenLookingForOlderMen.com now allows users from across the globe to become its members. Given the fact that the site sports an easy to navigate and practical user interface in addition to a decent feature set, it certainly looks promising.
For more information please visit http://www.WomenLookingForOlderMen.com/