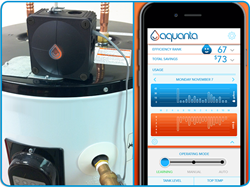 Aquanta will bring groundbreaking convenience, control and insight to water heater operation and energy usage.
McLean, VA (PRWEB) November 20, 2014
Energy efficiency technology developer Sunnovations Inc. today launched a Kickstarter campaign for its Aquanta smart water heater controller system. Water heaters, despite their ubiquity and role as the 2nd largest consumer of home energy and hub of its plumbing network, have largely been excluded from the "smart home" trend.
Aquanta changes that by being the first water heater controller to combine near-universal retrofit-ability, networked home compatibility and advanced analytics that enable "learning" controls for smart cycling of its heating. The Kickstarter campaign allows interested parties to support Aquanta's development and receive an Aquanta unit upon its commercial availability in mid-2015.
"Most people don't know that water heating is the 2nd largest consumer of energy in their home," said Sunnovations Chief Executive Officer Matt Carlson. "Aquanta is designed to save homeowners money, while at the same time provide enhanced controls and maintenance alerts like water heater leak detection. Water heaters are a sometimes overlooked but critical part of the fabric of our lives, and Aquanta will bring groundbreaking convenience, control and insight to their operation and energy usage."
Aquanta is designed to be easily installed on a home's existing water heater, and will work with the vast majority of hot water storage tanks found in North America and elsewhere in the world. Its enabling technology is its proprietary enthalpy sensor, which can highly accurately measure both energy going into a water heater as well the energy being used. Aquanta's software uses the sensor data to "learn" and control the water heating according to a homeowner's usage patterns. The user interface will be web-based, with integrations planned into the major smart home platforms on the market.
About Sunnovations
Sunnovations develops innovative products and technologies that address climate change and enhance energy efficiency, with specific focus on the energy usage and inefficiencies inherent in our water heating and plumbing systems.
Interested parties can watch a video, learn more about Aquanta and support the Kickstarter campaign here.