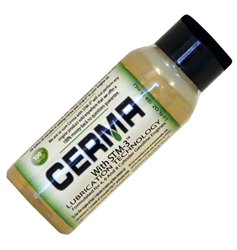 This is something that has been proven to work both in the lab and on the road.
Denison, Texas (PRWEB) November 24, 2014
"It's quite amazing," says Jay Moonah of GetCerma.com. "When I first found out about this product I was sceptical, as I think just about everyone is when they first learn about it. But when I learned it has actually been around for years, and having seen how many other folks have had amazing results with it, I knew this was something I wanted to help get out to the world."
Cerma with STM-3® was developed in 2001 by engineer and chemist John Murray of Denison, Texas. Murray is the inventory of a process called "SiC Lubrication", for Silicon Carbide.
Silicon carbide is often used as a high performance industrial-grade surface protector, due to its ability to withstand high temperatures. The process of producing and coating materials with silicon carbide traditionally costs thousands of dollars and requires many steps. Murray's development of the SiC Lubrication process allowed the creation of an industrial-grade coating with a relatively simple one-time application that any consumer can apply to their own vehicle. Cerma with STM-3® is the result of Murray's work: a commercial SiC Lubrication treatment that can improve the performance of any vehicle engine with a simple one-time application.
Application of Cerma with STM-3® is a proven way to reduce harmful pollutants. Independent testing performed by the California Environmental Engineering Center in Santa Ana compared identical vehicles, and found a significantly drop in levels of Nitrogen Oxide (NOx), Hydrocarbons (HC) and Carbon Monoxide (CO) in the treated vehicle. "These pollutants not only contribute to the greenhouse effect, but also damage the lungs, and contribute to heart disease and cancer," points out Moonah, "so the potential of reducing them in every car with a simple treatment is really a tremendous benefit."
Furthermore, customers of Cerma with STM-3® report increased gas mileage when they applied the treatment in their own cars. Fuel saving were validated by the Canadian Environmental Technology Verification Program, a program of the Government of Canada that provides independent verification of environmental technology performance claims. "This is something that has been proven to work both in the lab and on the road," notes Moonah.
GetCerma.com is backing up Cerma with STM-3® with a 90-day money-back guarantee. "We urge you to try the product, and if you're not satisfied please contact us for a full refund, no questions asked," says Moonah.
To celebrate the launch of GetCerma.com, the site is offering a 20% discount on all orders until the end of the year. Enter the coupon code "new2014" (without the quotes) at checkout.