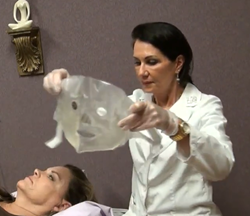 The numerous anti-wrinkle and post-operative benefits of applying this unique facial cold compress are stunning the beauty and plastic surgery industry.
Cleveland, Georgia (PRWEB) November 22, 2014
Ice2Recover, a leader in the beauty industry, introduces a breakthrough product for facial surgery post-operative care and for daily skin firming and tightening, transforming the notion that youthful skin, minimized wrinkles, and anti-aging remedies can only be achieved through drastic measures. Quite the contrary, Ice2Recover's revolutionary product, a conforming ice therapy gel mask, makes beautifying facial routines and post-operative healing and relief a pleasurable experience with minimal effort and little time. Superior to other facial firming solutions and post-operative relief products, Ice2Recover's pliable ice therapy mask, serves dual purposes, acting as an everyday beauty regimen and/or as a cosmetic surgery relief and healing accoutrement for those who have chosen to pursue facial plastic surgery or other facial beautifying procedures, such as face lifts, augmentations, chemical peels, laser therapies and filler injections. The numerous anti-wrinkle and post-operative benefits of applying this unique facial cold compress are stunning the beauty and plastic surgery industry.
This amazing, yet simple, product is a reusable full-sized cooling facial mask, appropriate for both men and women, which consists of a soothingly soft, pliable and latex-free outer shell that is filled with a non-toxic gel. This chilled, malleable mask is designed to conform easily to the contours of any facial structure and sits delicately on the face, secured in place effortlessly with two fastening straps. The secret behind the mask? Ice therapy.
Ice2Recover began their quest for designing an effective, easy-to-use and 'everyday' method for skin firming and cosmetic surgery relief after a trip to Columbia, where company founder, Helenya Gradidge observed the local beauty rituals of the women in South America. Gradidge noticed the young and rejuvenated skin exhibited by the women of Columbia and questioned their methods. Further investigation revealed the secret of ice therapy as a daily facial beautifying practice. Gradidge discovered that women who practiced ice therapy daily, clearly possessed glowing complexions with younger and firmer facial skin. Through continued research and product development, Ice2Recover uncovered the multiple benefits of ice therapy, not only as a beautifying technique, but also as a facial surgery post-operative healing and relief aid for those who had undergone cosmetic and facial plastic surgery.
Designed for convenience and ease of use, the mask itself is simply stored in a refrigerator in its custom-designed storage pack, ready for use at any given moment. The non-toxic gel material is specifically designed to chill to the perfect temperature, mimicking ice therapy– without the mayhem, cumbersomeness and aggravation of actual ice. By simulating ice therapy in a reusable, no-hassle mask, women and men around the world are reclaiming their youth with minutes a day and cosmetic post-operative care has literally been given a new 'face'.