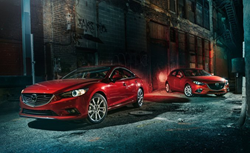 Car and Driver has just released their list of the 10 Best Cars of the 2015 Class. The Ford Mustang GT and Mazda's 3 and 6 made the cut!
Preston, MD (PRWEB) November 24, 2014
Car and Driver has just released their list of the 10 Best Cars of the 2015 Class. There are about 150 new cars released every year, so to be in the Top 10 is a huge honor. Preston Automotive is proud to be able to say that they sell three of the top 10 in this list.
First one to highlight is the 2015 Ford Mustang. There has certainly been a ton of buzz about the Mustangs because they just recently made their way to dealers across the country. At Preston Ford in Hurlock, Maryland, there are about 10 of these American Roadsters and more will certainly come in stock over the next few months. One of the biggest reasons for all the hype is the updated suspensions, front and rear. Previous models of this car were said to have an awfully bouncy rear end. Even the smallest of bumps in the road made for an uncomfortable ride. So, Ford seems to have taken that feedback to heart and put an independent rear suspension on the new 2015 'Stangs. Once they did that, they found the front suspension could not work in harmony with the upgraded rear – so they changed the front too. All around, it is a much overdue advancement for the Mustang.
The next two cars that made Car and Driver's Top 10 list are actually Mazda's. First is the Mazda3. Mazda has recently been churning out great cars, and 2015 will seemingly be no different. The 2015 Mazda3 is sleek, stylish, and fun to drive. The Mazda3 is a part of the compact sedan or hatchback category and Preston Mazda in Hurlock, Maryland has tons of them. The Mazda3 will achieve about 30MPG city and over 40MPG highway. Plus they can seat 5 people with all of their gear as well. It's a fun little sporty car that should be at the top of anyone's list.
Finally, the 2015 Mazda6 at Preston Mazda is the third car to make the top ten list. The 2015 Mazda6 has a distinct sporty design, outstanding fuel economy, and tons of options. One of the optional items available in the 2015 Mazda6 Grand Touring is i-Eloop. This is an energy capture system and stands for Intelligent Energy Loop. What this new technology does is stores energy captured during deceleration and uses it for things such as lighting, AC, etc. With this available technology package, the Mazda6 Grand Touring has topped out at over 40mpg highway.
Preston Automotive is incredibly proud to have these 2015 models available for their customers. So make sure to check them out on the web at http://www.prestonmotor.com. See the complete list below for the 10 Best Cars of 2015.
1. BMW M235i
2. Cadilac CTS
3. Chevrolet Corvette Stingray
4. Ford Mustang GT
5. Honda Accord
6. Mazda Mazda3
7. Mazda Mazda6
8. Porsche Boxter/Cayman
9. Tesla Model S 60
10. Volkswagen Golf/GTI
About Preston Automotive Group
Preston Automotive Group serves the Delaware, Maryland, Virginia and Pennsylvania areas with Ford, Lincoln, Mazda, Hyundai, and Nissan brands. The auto group carries the largest selection of new and used cars and trucks. Additionally, the dealership services all makes and models, both imported and domestic cars with ASE certified and factory trained technicians. To further serve your automotive needs the Preston Automotive Group is also home to three auto body shops conveniently located around Delmarva in Preston, Cambridge, and the newest facility in Snow Hill, Maryland. Recently Preston Automotive Group added new Ford and Lincoln locations in Georgetown and Lewes, Delaware.