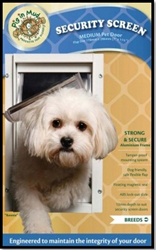 "The new name of the business really emphasises what we are about - providing a pet door installation service at a competitive and affordable price, "
Melbourne, Victoria, Australia (PRWEB) November 24, 2014
Customer feedback has seen a Melbourne pet door installation business relaunch under a new name – Affordable Pet Doors Melbourne.
"The new name of the business really emphasises what we are about - providing a pet door installation service at a competitive and affordable price," said Sean Taylor, the owner of the business.
The business has also expanded its product range, which now includes the Pig In Mud range for security screen doors.
"We've been installing the Pig In Mud pet doors for timber doors for quite a while, and they're a very well-made durable product," Mr. Taylor said, "so we've now started installing their security door range as well."
The frames of the Pig In Mud range for security screen doors are made from tempered aluminium alloy, so are long lasting. They also feature a flexible flap - which also helps if there is an animal that is a bit timid to go through the pet door.
The company now also offers a Pig In Mud combination for people that want a pet door in both their timber and security door.
"We align the pet doors so the dog or cat can get through both doors and out into the backyard," Mr Taylor added.
The benefits of having a pet door installed include the convenience to the pet owner of not having to constantly let the animal in and out; as well as the fact that the pet is able to get outside and exercise.
"The feedback our staff have gotten indicates that the pets are much happier – they've had a chance to exercise outside during the day while the person is away at work," Mr. Taylor said, "as well as decreasing behavioural problems such as chewing up the furniture or cushions."
Installing pet doors for a variety of people made Mr Taylor realize that there were many reasons people wanted an installation service.
"Some people don't have the tools or the experience," he said, "or sometimes people are just really busy – so it's handy for them to have a service where a pet door can be installed within an hour or two."
Affordable Pet Doors Melbourne services both the Melbourne and Mornington Peninsula area, and provides pet door installations on both weekdays and weekends.