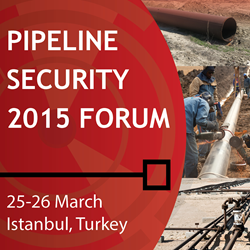 It's an IRN Summit!
London (PRWEB UK) 25 November 2014
The global summits organiser, IRN, is delighted to announce the launch of the inaugural Pipeline Security 2015 Forum on 25-26 March in Istanbul, Turkey.
A network of over 3,500,000 km of pipelines currently transports hydrocarbons all around the world, and according to P&G, there are construction plans for over 180,000 km of pipelines in the coming years.
Oil and gas pipeline infrastructure runs through the coldest regions of the Arctic, traverses the Amazon jungles and the desserts of North Africa. Pipelines cut through great mountain ranges, are laid at the bottom of the Black Sea, and can be found in some of the world's biggest conflict zones in Africa, the Middle East, Asia and Latin America. This critical infrastructure is subject not only to natural disasters but is also attractive as a 'soft target' for criminals and terrorists. Pipeline networks are particularly vulnerable, especially when they spread over remote and hostile territories, where the costs of conventional monitoring methods are too high to implement.
The Pipeline Security 2015 Forum will be a senior level platform that will take place in an exclusive 5-star setting in Istanbul, Turkey, on 25th-26th of March. Delegates will have the chance to hear presentations and case studies from a number of security experts from globally established international construction and oil and gas companies.
Some major challenges for the energy pipeline industry that the Forum will address are:

Insecurity and terrorism
Political tensions
Counter-terrorism
Challenges for transnational pipeline networks
Employee protection
Oil siphoning
Community engagement
Special incident investigation methods
Effective implementation of latest cutting-edge security technologies
More information can be found on the website http://www.pipelinesecurityforum.com.