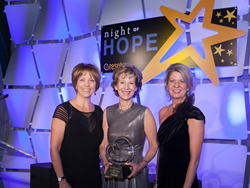 (PRWEB) November 25, 2014
RESOLVE: The National Infertility Association celebrated 40 years of educating, advocating, and creating communities of support for those with infertility at the Night of Hope Gala on November 18, 2014. More than 350 leaders and influencers in the family building community attended the event, where RESOLVE reflected on its history and announced a bold initiative to ensure that it would continue to advance its mission to improve the lives of people with infertility.
"When I started RESOLVE, I wanted a place for people in my local area to feel supported. We should all want a world where every person diagnosed with infertility got the support they needed to find their resolution and had access to all family building options without financial barriers," said Barbara Eck, founder or RESOLVE. "It seems so simple, yet tomorrow there will be someone who receives the news that they are facing infertility. And that person will feel lost and alone. We can change the future for that person here tonight."
"Since I was born in 1981, my parents have chosen to remain open about our story for one reason—to help others," commented Elizabeth Carr, who was the first baby born through IVF in the U.S. "When I hear people share their stories in a public way, I know it is not easy, but it is so necessary. That is why I am proud to stand with RESOLVE who has always been committed to raising awareness. Increased awareness reduces stigma and brings acceptance. And acceptance helps the infertility community's voice be heard and make change happen. We all can help RESOLVE continue to raise awareness by sharing our stories and answering their call for support."
A highlight of the event was the presentation of the 2014 Hope Awards. As the organization that supports and provides a voice for people diagnosed with infertility, RESOLVE established the Hope Awards to recognize professionals, companies, volunteers, and the media who have demonstrated leadership in the infertility field or have made a positive impact in the lives of people struggling with infertility.
The Night of Hope was capped off with the announcement of the Campaign for a Stronger RESOLVE, a special fundraising initiative that will enable RESOLVE to focus on three key gaps that are critical to the future: support for individuals diagnosed with infertility, keeping family building options available and legal, and increasing access to medical care for all who need it. For more information, please visit http://www.resolve.org/stronger