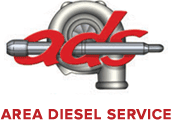 Area Diesel has continually grown due to our knowledgable, honest, attentive service. We believe that approach comes through loud and clear on our new website.
Des Moines, Ia. (PRWEB) November 25, 2014
Area Diesel Service, Inc. today announced the recent launch of its new website, complete with an ecommerce platform for the company's extensive line of diesel products. Area Diesel management worked directly with an award-winning interactive agency to ensure an ideal user experience on any popular browser or device, as Iowa Branch Manager Corey Stallings noted: "Many of our customers need their parts right away so they can get their engines running well again and get back to work. Others want their parts right away to optimize their diesel performance. Either way, that often involves shopping for parts on their phones or tablets. To make that process quick and easy, we built a new ecommerce site that automatically resizes to look great on any screen, because it's designed and built as expertly as the products Area Diesel sells."
The newly redesigned website offers users an array of diesel solutions including nearly 600 products, downloadable reference materials, details about Area Diesel and the latest industry news. The website also lets users create personalized accounts to streamline the shopping process, and diesel product dealers can create accounts to gain access to dealer-only resources, including restricted downloadable materials. "We're happy with the initial feedback on the dealer accounts," said Stallings. "A few of the early adopters," he continued, "have said their dealer accounts make it much easier to grab what they need from the site and get back to their other tasks."
Streamlining the Shopping Process
With so many diesel power products, performance upgrades and other engine parts available to order on the site, busy users will likely appreciate the convenient search functionality. The search bar is readily available on all pages of the site, letting people quickly search by product or topic type or by diesel brand, part name or part number. On the products pages, the option to sort products according to price also lets users shop within their budgets, saving time and the hassle of weeding through options that don't match their price points.
Stallings addressed the time and attention Area Diesel and its web development agency gave to ensuring the site offers an intuitive experience: "Along with including the prominent search areas so people can jump right to whatever they need, we took a painstaking approach to the organization and navigation architecture of the website. We recognize how important it is that users can immediately find any product, and thankfully we chose an interactive shop with the experience to answer that need. We talked about the various ways people like to navigate a website, and the designers created multiple direct and efficient paths to access any given product or resource."
Showcasing Hundreds of Products
Area Diesel Service offers many product types, including the popular Magnum line of OEM diesel engine replacement parts, featuring remanufactured parts—backed by a 13-month warranty—for leading manufacturers such as Cummins, Dodge & RAM, Ford, General Motors and Navistar. Users can also order the following types of diesel engine products on the Area Diesel website:

Modules—for improved performance of agricultural, light-duty, medium-duty or heavy-duty diesel engines
Turbochargers and accessories—including BorgWarner Turbos, turbos for commercial vehicles and performance turbos
Fuel economy upgrades—including exhausts, air intakes, fuel additives and electronic upgrades
Should users run into questions about Area Diesel products, they can contact an expert for answers. "Since Val Leefers first opened shop in 1973," said Stallings, "this company has continually grown due to our knowledgable, honest, attentive service. We believe that approach should come through loud and clear on our website, so we've made it simple to reach our staff directly. Besides, we welcome any chance we get to talk diesel."
For more information on Area Diesel Service products, visit areadiesel.com or contact Corey Stallings at CoreyS(at)areadiesel(dot)com. To learn more about diesel solutions and engine parts for improved performance, follow Area Diesel Service on Facebook, Google+ and Twitter.