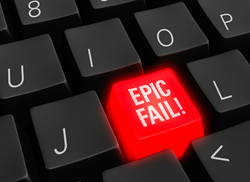 GetUWired shares 5 small business website design mistakes to avoid in its latest blog.
(PRWEB) November 25, 2014
GetUWired, a small business website design and web marketing firm in Dahlonega, Ga., has just released an educational blog called "5 Small Business Website Mistake to Avoid." The blog can be seen here. The blog discusses 5 common small business website design mistakes that can hinder a website's performance.
5 Small business website design mistakes to avoid
Mistake #1 -- Not Giving the Customer What They Want
People come to a website with a very specific idea of what they'd like to accomplish. If they can't accomplish that goal within just a few seconds, they are likely to leave. Small business owners should think about what their customers might come to their site to do, such as shop, ask questions, or schedule an appointment, and make those options are very apparent on the website.
Mistake #2 -- Not being responsive
Most people now search the web via their smartphones or tablets rather than full-size laptops or PCs. If a small business' website isn't responsive, customers visiting that website are likely to get frustrated with reading teeny-tiny text and trying to click small links. Making a site responsive costs a little more than a fixed-size site, but the end result is worth the extra money.
Mistake #3 -- Missing a "Call to Action"
To get customers to take a specific action, the best way to go about is just ask them! Adding a call to action to a small business website will increase the number of leads captured and sales made. Calls to action can get people to sign up for a newsletter, download a file, schedule an appointment, and much more.
Mistake #4 -- Boring/Stale Content
Web content needs to be three things: concise, engaging and fresh. Keeping text short and engaging makes it easier to read and remember for website visitors. Adding fresh content on a regular basis, such as posting a weekly blog, lets the search engines know that a site is staying relevant and up to date, which will result in higher search engine rankings.
Mistake #5 -- DIY Websites
Small business website design is a big deal. Anyone who wants a professional, fully-functioning site should never try to do it themselves. Because a website is usually a customers' first impression of a business, it is important to have a website that is professional, beautiful and fully functioning.
GetUWired specializes in designing expert websites for small businesses. With 100% custom design, hand-crafted functionality and SEO copy, GetUWired can delivers sites any business will be proud of. For more information, call 877-236-9094 or visit http://www.GetUWired.us today!