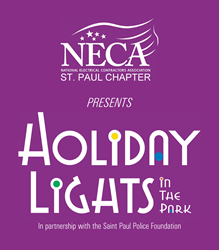 We are excited to be up and running.
St. Paul, Minn. (PRWEB) November 25, 2014
The St. Paul Chapter of the National Electrical Contractors Association (NECA) and the St. Paul Police Foundation are proud to announce today's opening of the seventh annual Holiday Lights in the Park at St. Paul's Phalen Park.
Holiday Lights in the Park which features more than 60 unique and vibrant light displays will be open nightly from Nov. 25 to Jan. 1, 2015. Visitors to Holiday Lights in the Park will see the area's largest nightly holiday celebration from the warm confines of their vehicles, all while supporting those in need. To date, Holiday Lights in the Park has raised $336,000 to support local non-profit organizations who serve the area.
Today's opening ceremony, which kicks off the 37-day run of Holiday Lights featured several special guests including St. Paul Police Chief Tom Smith and the Department's horse, motorcycle and squad patrols.
"We are excited to be up and running," said Kate Kelly, Executive Director of the St. Paul Police Foundation. "This is a major undertaking and a labor of love for all of those who help set up the displays. It is so gratifying to see our guests enjoy the fruits of our efforts."
Producing a light display of this size is not a small task. In addition to the labor and maintenance involved, it is important to the event's producers that Holiday Lights leaves a small environmental footprint. From the type of bulbs used, to the orientation of the displays in the park, conservation is top of mind for Holiday Lights.
"Because of the way these displays are configured, we use 60-percent less energy than a typical display of this size," said John Brandano of Brandano Displays, the company that manufactures the displays for Holiday Lights. "Before we came on the scene, light displays were wasting electricity at an obscene rate. Bottom line is that they weren't stewards of the environment. We have spent three decades working to use less energy, while always trying to improve the quality of our displays."
Holiday Lights will offer several special themed nights this year as well that include:
Tuesday, December 2– Military Night: Active military members and veterans get a free admission with a Military ID shown at the gate.
Wednesday, December 3, and Saturday, December 20, – Minnesota Wild Nights: All visitors with a ticket stub or proof of attendance via the Wild's seat locator app from the above 6 p.m. start Minnesota Wild games will receive a $5 discount on their Holiday Lights in the Park admission for any night the park is open.
Wednesday, December 17 – Winter Carnival Night: Any vehicle with a Winter Carnival Button is eligible for a $5 discount on admission on this night only.
Sunday, December 21 – St Paul Police and Families Appreciation Night: All active or retired SPPD will get free admission with a valid badge or ID.
Tuesday, December 30 – Light up Lake Phalen Neighborhood Night: Contest winners will be announced and prizes presented.
About Holiday Lights:
Holiday Lights in the Park is a joint venture of the St. Paul Chapter of the National Electrical Contractors Association (NECA) and the St. Paul Police Foundation with the sole purpose of creating fun and affordable holiday events that raise funds to help meet basic life needs for children and adults in the Twin Cities metro area. All of the net proceeds of the event will be distributed to Union Gospel Mission, the Saint Paul Police Foundation, and the Saint Paul Parks Conservancy. To date, Holiday Lights in the Park has raised more than $336,000 to support local non-profit organizations that support the residents of the Twin Cities. Holiday Lights in the Park is open nightly from November 25 - January 1, 2015 at St. Paul's Phalen Park. For the cost of $10 per vehicle, visitors will experience a program of more than 60 larger-than-life holiday light sculptures and animated displays from the comfort of their vehicles as they cruise through the park in the evening hours. To purchase tickets you can visit our website: http://www.saintpaulpolicefoundation.com/, or for more information you can find us on Facebook: https://www.facebook.com/stpaulpolicefoundation or follow us on Twitter: https://twitter.com/StPaulPoliceFdn
Contacts:
Robb Leer, media liaison Holiday Lights in the Park
612.701.0608 Robbl(at)leercommunication(dot)com  
Kate Kelly, executive director Saint Paul Police Foundation
651.792.5082 Kate(dot)kelly(at)saintpaulpolicefoundation(dot)com
###