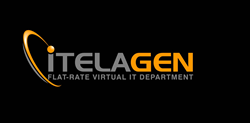 COO for ITelagen, Steve Vickner says, "To be HIPAA complaint, disaster recovery is not just a great idea, it is now the law. We are constantly telling our clients that we are no longer in a position to delay DR planning for them."
Jersey City, NJ (PRWEB) November 25, 2014
ITelagen, Inc., a leading provider of healthcare IT support and system administration, recently announced a game-changing Disaster Recovery Service that meets the Meaningful Use Stage 2 measure: Protect Electronic Health Information. The attestation requirements for meeting this measure include attesting YES to conducting or reviewing a security risk analysis and implementing security updates as needed to meet this measure. The layers to meeting this measure are endless.
ITelagen services not only provide clients with the security of data meeting the HIPAA Security Rule, the Disaster Recovery Service guarantees resiliency and offers fast recovery of mission-critical systems. ITelagen will protect and recover client systems in a geo-redundant, top-tier, SSAE 16-compliant data center, which serves as the "warm site." The systems are replicated in the ironclad ITelagen Cloud and our team of experts take care of continuity and all DR planning, testing and documentation, and manage the process to minimize business interference.
In an article published by SearchHealthIT, author John Moore says, "Working with customers on disaster recovery procedures represents another form of planning currently in demand. Taking steps to protect personal health information (PHI) ranks among the meaningful use program's core criteria." COO for ITelagen, Steve Vickner, responds to the ITelagen Disaster Recovery Service, "Electronic Health Records are not only an essential part of new government regulations concerning health care reform, but a disaster recovery plan is mandated for meeting measure #9 of MU2. To be HIPAA complaint, disaster recovery is not just a great idea, it is now the law. We are constantly telling our clients that we are no longer in a position to delay DR planning for them. And if cost is an issue, we can work out a financing option suitable to their budget."
Although many practices have not budgeted for additional IT services, Disaster Recovery Service from ITelagen makes financial sense with or without meaningful use. HIPAA Security Rule, and therefore MU2 requirements, say that backed up data must be recoverable, and it must be stored offsite. Using the ITelagen Cloud for offsite backup is cheaper than doing it yourself, eliminates the capital expenditure for equipment, maintenance and labor associated with backup and recovery, and it present fewer security risks than tape drives.
About ITelagen:
ITelagen® redefines Healthcare IT for medical practices by providing electronic health records (EHR) as part of an entire back-office solution that includes unlimited onsite & remote technical support for all of your staff and secure hosting of your patient data. We are more than just desktop technicians, but a complete healthcare technology team made up of CIO's, engineers, and healthcare EHR experts. With ITelagen, you can have all the benefits of your very own fully-staffed IT Department, without the expense of an in-house staff. By combining certified EHR experts with IT and hosting, ITelagen becomes the single point of contact and "One-Stop Shop for EHR®" for IT and EHR infrastructure, all for a flat monthly subscription fee. For more information, visit ITelagen on the Web at http://www.itelagen.com. Follow ITelagen on Twitter at https://twitter.com/ITELAGEN, Facebook at http://www.facebook.com/itelagen, or LinkedIn at http://www.linkedin.com/company/itelagen.
Contact:
Emile Ondrus
ITelagen, Inc.
201-239-8405
press(at)itelagen(dot)com