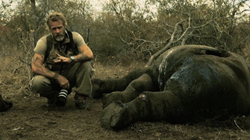 "Three rhinos are killed each and every day, a horrific fact that is placing this majestic species on the very edge of extinction."
New York, NY (PRWEB) November 26, 2014
Documentary feature film "Something That Matters" takes a raw, first-hand look at the ever-present crisis of poaching looming over one of Africa's most iconic species. With an average of 3 rhinos killed per day and rhino horns fetching more street value per ounce than cocaine or gold, the stakes are extremely high, and time is running out. Nonprofit organization Lyonheartlove and filmmaker Steven Lyon have launched a crowdfunding campaign on Indiegogo to complete needed funding to finish the documentary film started years ago. The crowdfunding campaign is offering rewards ranging from the digital film download to producing credit once the film is complete here.
In 2012 renowned photographer and filmmaker Steven Lyon experienced firsthand the senseless slaughter of the African rhino. This discovery led to a 1000 km trek across the country for the sole purpose of raising awareness of this endangered species' plight. On the trek, Steven invited key individuals ranging from celebrated authors and reporters to officers and conservationists, each struggling to fight against rhino poaching on a daily basis. "This is a journey I've been on for over a year now, and it's about people who believe they can really make a difference- and are risking their lives to do so," he says.
The urgency of the species' predicament led Steven to establish the non-profit Lyonheartlove Organization in 2013 to educate people on the horrors of poaching and the joys of wildlife conservation. "Something that Matters" is the first project under this organization, who are turning to crowdfunding platform Indiegogo to raise completion funds for the film. Apple Computer and Red Digital Cinema have come on board as official product sponsors of the film and the Lyonheartlove Organization's 501(c)(3) status allows crowdfunding contributions to be tax deductible. Many of the campaign rewards consist of Steven Lyon's stunning images, all shot on film. It is Lyon's hope that by raising awareness of these atrocities there is an opportunity to call global attention to the African rhino's plight and end their senseless slaughter once and for all.
About Steven Lyon
Steven Lyon has had successful careers as an actor, model, and photographer before turning his attention film directing. His photography work has been exhibited all throughout Europe. In 2004 Photo Magazine and Fujifilm sponsored an exhibition of his work at famous Plaza Athenée in Paris. He has been a contributor to a range of magazines including Vanity Fair, GQ, and Vogue as well as nouveau art publications like 25, Treats and S magazine. He is noted around the world for his sexy,cutting-edge fashion films and music videos. "Something That Matters" marks his documentary feature film debut as a director, and is produced in conjunction with the Lyonheartlove Organization.
About Lyonheartlove Organization
Founded in 2013 by photographer Steven Lyon, Lyonheartlove is a non-profit organization dedicated to making documentary films in support of endangered or threatened wildlife. It endeavors to educate people on the horrors of poaching and the joys of wildlife conservation.
"Something that Matters" marks the company's first project.