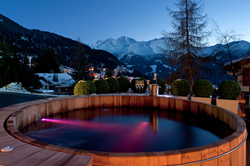 An exquisite and luxurious hot tub installed in a Swiss ski chalet.
(PRWEB UK) 26 November 2014
The European Union of Swimming Pool and Spa Associations (EUSA) awards took place at the Piscine Global exhibition held in Lyon, France on Thursday 20th November. Hailed as a resounding success, the awards have grown from three to five categories, with sixteen winners announced across the 13 countries that comprise EUSA.
Competition was tough, with EUSA representing over 3,000 swimming pool and spa companies across Europe. The awards were judged by top industry professionals representing the EUSA members. With such superior standards, understandably tensions were high in anticipation of the results, with the audience warmly acknowledging each of the winners as they were announced, securing their places as the 2014 industry leaders.
Being judged a winner by the leading industry voices, of the Pool & Spa Associations across Europe is high recognition for every award recipient. Each of the UK winners was able to gain entry to the European awards by previously winning either a Swimming Pool and Allied Trade Association (SPATA) or British and Irish Spa and Hot Tub Association (BISHTA) award.
Devon based company Home Riviera Hot Tubs, were delighted to take the bronze award in the Domestic Hot Tubs category. Their entry impressed EUSA judges who described their winning installation as; "This tub was required to be installed in luxury Swiss ski chalet at 8ft which was a challenge in itself. The weather was difficult and time was pushed as the tub was due in before the ski season. Riviera Hot Tubs took that challenge and built an exquisite and luxurious hot tub which is now used as an image to advertise the Swiss ski chalet."
Chris Hayes (British Swimming Pool Federation, Managing Director) commented "We were thrilled by this year's results and very proud that our members won 4 of the 16 awards being given out. The judges had some tough decisions to make, with a shortlist of 86 entries across five categories". Chris continues: "This year seven countries provided entries and seven countries judged the categories. "The excellent work displayed by our members and those of the other relevant National Associations defines the industry and celebrates the exceptional standards of our members and their professionalism. I am sure that consumers across Europe can be secure in the knowledge that a company in a national association who are members of EUSA are a business to trust and who provide superior standards". The current development of European standards for domestic pools and spas will reinforce this desire for uniform knowledge and application.
Robin Cranston of Riviera Hot Tubs, said: "We are thrilled with our European win in the Domestic Hot Tub category. To be highlighted in the EUSA awards alongside such strong competition across Europe, is a significant acknowledgement for our company and our entire team."
Founded in 2006, EUSA is registered in Brussels and spearheaded by the current President Philippe BACH. With an objective of, strengthening and coordinating the spirit of European unity between all its members and the voice of craftsmen, the trade, wholesalers and the wet leisure industry across Europe. Philippe BACH commented: "I am immensely proud to be able to present the EUSA 2014 awards at Global Piscine in Lyon. The quality of the winners and the other entrants demonstrate the high standards that the pool and spa industry has to offer in Europe. EUSA will continue to promote everything that is great about our industry."
Moving forward for 2015, the influence of EUSA and the combined support of its membership countries are sure to have a fantastic impact on the industry. The message is clear in providing wet leisure companies across Europe with a reason to celebrate their achievements and the opportunity to promote pool and spa equipment as a lifestyle choice to consumers with a message that excites and inspires.