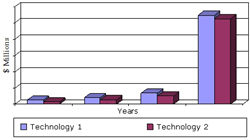 Global Market for Nucleic Acid Aptamers to Reach $5.4 Billion in 2019
Wellesley, Mass. (PRWEB) November 25, 2014
The high affinity and specificity of nucleic acid aptamers is driving global demand with the market expected to grow to $340.5 million by the end of 2014 and to about $610.3 million in 2015. This should further reach nearly $5.4 billion by 2019, with a compound annual growth rate (CAGR) of 73.5% from 2014 to 2019.
An increasing number of applications for aptamers in diagnostics, therapeutics and research, along with technological advancements, are the driving factors of this market. With most of the research activities being conducted in the United States, it is no surprise that the North America region dominates the market globally. This is due to favorable government policies for conducting clinical trials and research which are, in turn, fuelling market growth.
"Nucleic acid aptamers exhibit enhanced effectiveness, and have a low manufacturing cost. This makes them ideal for the treatment of diseases such as HIV/AIDS, cancer and other autoimmune diseases," says BCC Research analyst Yojana Jeevane.
European countries, on the other hand, are the least involved in this market due to unfavorable government regulations which discourage the adoption of aptamer-based applications. Furthermore, the nucleic acid aptamer market in developing countries such as India and China in the Asia-Pacific region are facing challenges due to stringent government regulations and poor response from society because of ethical issues.
Nucleic Acid Aptamers for Diagnostics and Therapeutics: Global Markets presents an in-depth analysis of the global nucleic acid aptamer market by technologies, applications and geographic regional markets. The evolving trends and technological developments in the field of aptamers have been studied in detail.
Editors and reporters who wish to speak with the analyst should contact Steven Cumming at steven.cumming(at)bccresearch(dot)com.
About BCC Research
BCC Research publishes market research reports that make organizations worldwide more profitable with intelligence that drives smart business decisions. These reports cover today's major industrial and technology sectors, including emerging markets. For more than 40 years, we have helped customers identify new market opportunities with accurate and reliable data and insight, including market sizing, forecasting, industry overviews, and identification of significant trends and key competitors. We partner with analysts who are experts in specific areas of industry and technology, providing unbiased measurements and assessments of global markets. Our clients include the top companies in industries around the world as well as universities, business schools, start-ups, consulting firms and investment companies. Visit our website at http://www.bccresearch.com. Contact us: (+1) 781-489-7301 (U.S. Eastern Time), or E-mail information@bccresearch.com.
Data and analysis extracted from this press release must be accompanied by a statement identifying BCC Research LLC, 49-2 Walnut Park, Wellesley, MA 02481, Telephone: (+1) 781-489-7301; E-mail: editor(at)bccresearch(dot)com as the source and publisher. Thank you.