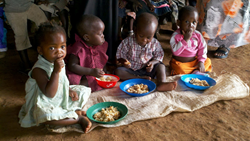 (PRWEB) November 25, 2014
On Tuesday November 18,, 2014, SanDisk joined forces with Stop Hunger Now in the fight against global hunger. More than 500 SanDisk employees simultaneously packaged more than 250,000 meals for the hungry in five SanDisk US locations. Stop Hunger Now meal packaging events are a volunteer-based program that coordinates the streamlined packaging of highly nutritious dehydrated meals comprised of rice, soy, vegetables and 23 essential vitamins and minerals.
SanDisk set an ambitious goal in 2014 to package 1 million meals to help relieve hunger worldwide. With the help of their global offices in India and China, SanDisk packaged and donated more than 400,000 meals by the end of July. Along with additional hunger relief partners in Israel, Japan and the Second Harvest Food Bank in Santa Clara, California, SanDisk challenged their U.S. offices to take them over the finish line last week and reached the remarkable goal of 1 million meals.
"That employees in our Headquarters in Milpitas, as well as across the U.S., are packaging meals together - simultaneously – is a remarkable feat! Even more remarkable is SanDisk employees worldwide will have packaged more than 1,000,000 meals in 2014, that will be distributed locally and around the world to children, families and communities for whom hunger and food insecurity is a daily reality," says Sumit Sadana, EVP, Chief Strategy Officer, SanDisk. "Today, we will have accomplished something together that we could never have done alone."
"Today's event is a first for SanDisk – a truly global partnership that involved employees around the world. It is an awesome example of the power collaboration, commitment and compassion can have on critical issues - especially when you consider that, as a company, our employees around the world packed over 1,000,000 meals," says Gisela Bushey, Director, SanDisk Foundation. "This is at the heart of SanDisk, and an inherent part of what it means to be a SanDisk employee."
Around the world, nearly 805 million people lack adequate food. Stop Hunger Now operates meal packaging locations in 19 cities throughout the U.S. and four international locations in South Africa, Malaysia, the Philippines and Italy. More than 450,000 volunteers from corporations, churches, schools and civic organizations have packaged Stop Hunger Now meals.
"We are tremendously thankful for SanDisk's leadership in the effort to end hunger," says Rod Brooks, President and CEO of Stop Hunger Now. " Engaging employees around the world to package one million meals is a huge achievement. Hunger is solvable and is the common thread among the world's most challenging issues. Through working together as we've done this year to address hunger, we also impact global poverty, disease, education, and the welfare of women and children."
For more than 15 years, Stop Hunger Now has been creating a movement to end hunger with more than 140,000,000 meals distributed along with other aid to 65 countries. Driven by a mission to end hunger in our lifetime, the organization provides food and life-saving aid to the world's most vulnerable and helps mobilize the necessary resources impacting millions of lives.
Stop Hunger Now meal packaging programs offer volunteers the opportunity to participate in a hands-on international hunger relief program and to become educated, engaged advocates for the world's poor and hungry. In 2013, Stop Hunger Now packaged 38.6 million meals in the U.S. and an additional 3.3 million meals were packaged by international locations.
In its efforts to respond to emergency needs around the world Stop Hunger Now receives and distributes significant donations of in-kind aid. These donations are large quantities of food, medicines, medical supplies and other such items as may be of use in fighting hunger and providing relief in a crisis.
.