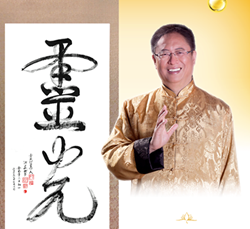 Los Angeles, CA (PRWEB) November 25, 2014
In a rare North American event, world-renowned miracle soul healer, Dr. and Master Zhi Gang Sha,will offer an entire day of healing activities in person and by live global webcast on Saturday, December 13, 2014 from 10:00 a.m. to 5:00 p.m. (Pacific).
During this event which is being called the Day of Miracle Soul Healing, Dr. and Master Sha will demonstrate his extraordinary healing techniques, including the use of powerful healing calligraphy, chanting, soul-guided singing, music and movement, and direct "soul transmissions." The event will be held at the Agape International Spiritual Center at 5700 Buckingham Parkway in Culver City near LAX airport.
"I have admired Dr. Zhi Gang Sha's work for some years now. In fact, I clearly remember the first time I heard him describe his soul healing system of Soul Mind Body Medicine," says Reverend Michael Bernard Beckwith, founder of Agape International Spiritual Center, one of Oprah Winfrey's favorite spiritual leaders, and known as one of teachers featured in the global phenomenon The Secret. "I immediately knew that I wanted to support this gifted healer and his mission, so I introduced him to my spiritual community. Ever since, it has been my joy to witness how those who apply his teachings and techniques experience increased energy, joy, harmony, and peace in their lives."
According to Dr. and Master Sha, he works at the level of soul, and his healing blessings are safe and non-invasive for everyone. Trained as a conventional medical doctor and a doctor of traditional Chinese medicine, Dr. and Master Sha is also a grandmaster of many ancient disciplines, including tai chi, qi gong, kung fu, I Ching and feng shui. Whether men, women or children suffer from back pain, anxiety, depression, high blood pressure, diabetes or even more severe health and personal challenges, the soothing music and other techniques used by Dr. & Master Sha will provide both immediate relief and long term benefits for all who attend the Day of Miracle Soul Healing.
Dr. and Master Sha will be accompanied on stage by world renowned composer Master Chiang from Taiwan, whom will play Source music to accompany Master Sha's Tao Song, alongside other gifted musicians. In addition, well known celebrities and sports figures like former San Diego Charger Vencie Glenn whom have personally experienced Dr. and Master Sha's healing techniques will share their experiences with the audience.
Dr. and Master Sha is the author of ten New York Times bestselling books, including Soul Healing Miracles: Ancient and New Sacred Wisdom, Knowledge, and Practical Techniques for Healing the Spiritual, Mental, Emotional, and Physical Bodies, which has sold more than 300,000 copies since its release in November 2013. His latest book Soul Mind Body Science System was just published in November and is now available.
In addition to the support of Agape Founder Michael Beckwith, luminaries ranging from bestselling authors Marianne Williamson, John Gray, and Wayne Dyer to legendary NFL quarterback turned Sports anchor Warren Moon endorse Dr. and Master Sha's teachings. He has been featured on several public television specials including The Power of Soul. His new public television series Soul Healing Miracles with Dr. and Master Sha will begin airing on PBS stations across North America in March 2015.
Tickets for the Day of Miracle Soul Healing event are $94.00 per person. For more information about the Live event in Los Angeles and real time webcast please go to http://www.DrShaEvents.com.