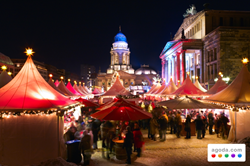 One of the oldest winter customs in Europe, the Christmas Market tradition is a perfect reason to visit some of Germany's most loved cities this winter.
Singapore (PRWEB) November 27, 2014
Agoda.com, one of Asia's leading hotel booking sites and part of Nasdaq-listed Priceline Group (Nasdaq:PCLN), has revealed a number year-end specials on accommodation in some of Germany's most popular destinations. This comes just in time for one of the country's most-loved winter traditions – the Christmas Market.
One of the oldest winter customs in Europe, the Christmas Market tradition began in Germany over 500 years ago. Usually held in the communal town square, the markets served as a place for townsfolk to stock up on winter supplies, catch up on town gossip, and meet with friends. Today they serve largely the same purpose, although now there are centuries of tradition deeply embedded in their observation.
Beginning 19 November, 2014, Agoda.com customers can head to http://www.Agoda.com/GermanChristmas2014 and browse for accommodation deals in seven of Germany's most popular destinations – Berlin, Cologne, Dresden, Hamburg, Munich, Nuremberg, and Stuttgart.
The markets in each city give travelers the common same Christmas experience of shopping, traditional food and drink like hot chocolate and mulled wine, lights, music, and plenty of holiday cheer. However, each markets has its own character and style. Nuremberg is known for the Christkind, a girl chosen by a jury to represent the town during Christmas celebrations, while Dresden – Germany's oldest Christmas Market – is known for its Christtollen, a delicious cake made with fruit and marzipan. In Munich, there are actually numerous smaller markets to choose from, including the Kripperlmarkt, known for its unique Christmas nativity mangers, and the Tollwood Market, which offers a huge variety of musical and artistic performances.
The list continues for each destination, so some research is definitely warranted in order to choose which one(s) to visit. Head to http://www.agoda.com/germanchristmas2014, but be quick – this special expires on 26 December! No matter what type of traveler you are, it's a perfect way to celebrate Christmas. Just remember to pack some warm clothes.