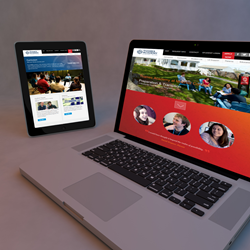 Kathryn Gaffney, Director of Marketing & Communications at Mitchell College said to Jim Paskill, President & Creative Director of Paskill Stapleton & Lord, "We always knew that you did great work. It's nice to see it acknowledged by others."
Glenside, PA (PRWEB) November 30, 2014
Graphic Design USA has honored Paskill Stapleton & Lord, (http://www.psandl.com) with two American Graphic Design Awards for their work with Mitchell College's Thames Academy. The winning entries were the Thames Academy website redesign, http://thamesacademy.org and the Thames Academy viewbook.
Paskill Stapleton & Lord is a higher education marketing firm that works closely with colleges and universities to help them maintain their enrollment health by building research-based strategic communications plans. During these engagements the firm consults with senior enrollment staff on strategy and tactics to improve enrollment by developing effective websites, collateral material and advertising campaigns.
When informed of the awards Kathryn Gaffney, Director of Marketing & Communications at Mitchell College said to Jim Paskill, President & Creative Director of Paskill Stapleton & Lord, "We always knew that you did great work. It's nice to see it acknowledged by others." Mitchell College is a national leader in learning engagement within a student-centered community that maximizes each student's ability to succeed.
For more than five decades, Graphic Design USA (GDUSA) has sponsored design competitions that spotlight areas of excellence and opportunity for creative professionals. The American Graphic Design Awards is the flagship competition, and is open to everyone in the graphic arts community ‒ graphic design firms, advertising agencies, in-house corporate and institutional designers, publishers and other media. This year there were 8,500 entries; only 15 percent were selected for recognition.
GDUSA Editor Gordon Kaye said, "Graphic design is increasingly recognized in commerce and culture. The winners of the 2014 American Graphic Design Awards are among the most talented and effective designers working today. The winners are truly the best and brightest the creative community has to offer."
Contact John Stapleton 215-572-7938 or john(at)psandl(dot)com