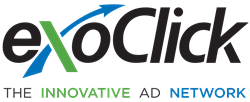 Barcelona, Spain (PRWEB) November 26, 2014
ExoClick, the innovative ad network, today announced that it has been nominated for 4 XBIZ awards.
The company has received 3 nominations for the categories: Traffic Services Company of the Year
(Europe), Progressive Web Company of the Year & Marketing Campaign of the Year. ExoClick's founder and CEO Benjamin Fonzé has been nominated for the Tech Leadership Award at the XBIZ Executive Awards. Both awards ceremonies will be held during the XBiz360 conference in Los Angeles 13-16 January 2015.
ExoClick has achieved some ground breaking advancements this year including reaching over 4 billion daily impressions and being ranked the 5th largest ad network in the world by W3Techs. Several tech innovations have been introduced to it's platform including the availability of big data statistics to advertisers and publishers with real time sophisticated campaign analysis tools, day-parting and a free Android app that allows clients to control their admin panels 24/7 from wherever they are. The company has also doubled in size this year by filling several key roles in its sales, business development, marketing and customer service departments.
Benjamin Fonzé commented, "2014 has been an excellent year of growth and innovation for us as we continue to set the standard within the adult ad network industry. Additionally we have made significant inroads into driving our mainstream business forward and we have extended our mobile reach globally. We are very proud as a team to have been nominated for these XBIZ Awards and we feel honoured to be grouped with so many highly respected industry peers."
NOTES TO EDITORS
For more information regarding the Xbiz Awards 2015 visit http://xbizawards.xbiz.com/nominees.php
ENDS
FOR FURTHER PRESS INFORMATION:
Giles Hirst
press(at)exoclick(dot)com
http://www.exoclick.com
+34 931810272
ABOUT EXOCLICK
Launched in 2006 and based in Barcelona, Spain, ExoClick is an innovative global ad network serving 125+ billion geo-targeted ads a month to web and mobile advertiser/publisher platforms via its proprietary software.
Founded by current CEO Benjamin Fonzé, ExoClick is now ranked as the 5th largest ad network in the world by W3Techs and the #1 ad network for the entertainment market. The Company has been ranked twice in the Deloitte Fast 500 and has also received several industry nominations for its business excellence including winning Traffic Services Company of the Year 2013 by XBIZ.