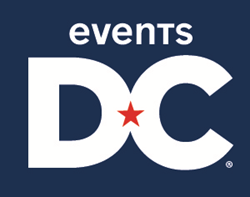 (Washington, DC) - (PRWEB) November 26, 2014
As part of the 15th annual Safeway Feast of Sharing, Events DC and partners set a festive Thanksgiving table open to the community at the Walter E. Washington Convention Center on Wednesday, November 26. The annual community event served holiday meals to more than 5,000 District residents in need while also providing health screenings, clothing donations and job fair opportunities.
Volunteers and special guests included DC Mayor Vincent C. Gray, Mayor-Elect Muriel Bowser, members of the City Council, Events DC Board Members and staff, Grammy Award-Winning R&B and spoken word artist Carolyn Malachi, Chef Huda, celebrity chef from ABC's The Taste and Food Network's Cutthroat Kitchen, Sharmba Mitchell, former WBA Light Welterweight Champion/IBF Super Lightweight Champion and Lisa "Too Fierce" Cohen, former IBFA Boxing Champion. Other notable appearances were made by the Washington Nationals Racing Presidents – Teddy and Bill and D.C. United's Talon. The doors opened at 10:00 a.m. and meals were served until approximately 2:00 p.m.
"Events DC is proud to host the 15th annual Safeway Feast of Sharing as an opportunity to open up our doors at the Walter E. Washington Convention Center and give back to our neighbors in need," said Gregory A. O'Dell, Events DC president and chief executive officer. "We are also grateful for the generosity and ongoing commitment of Safeway and other local partnerships in the District who have made this annual event a Thanksgiving tradition in the District."
"While our employees and community partners look forward to the chance to give back each year, we hope there will come a time when all our neighbors can prosper and know where their next meal will come from," said Craig M. Muckle, Safeway's manager, public affairs. "Until that time, Safeway and our partners remain committed to providing this opportunity for those in need to celebrate the Thanksgiving holiday as many of us do – in the company of others. We are thankful for the generosity of all who have made a contribution to create what has become a meaningful Thanksgiving tradition in Washington."
The annual event presented by Safeway brings together a host of additional community partners and volunteers, including Unity Health Care, the Salvation Army, Metropolitan Baptist Church, SunTrust Bank, and Centerplate/NBSE.
Events DC
Events DC, the official convention and sports authority for the District of Columbia, delivers premier event services and flexible venues across the nation's capital. Leveraging the power of a world-class destination and creating amazing attendee experiences, Events DC generates economic and community benefits through the attraction and promotion of business, athletic, entertainment and cultural activities. Events DC oversees the Walter E. Washington Convention Center, an anchor of the District's hospitality and tourism economy that generates over $400 million annually in total economic impact, and the historic Carnegie Library at Mt. Vernon Square. Events DC manages the Stadium-Armory campus, which includes Robert F. Kennedy Memorial Stadium and surrounding Festival Grounds, the non-military functions of the DC Armory and Maloof Skate Park at RFK Stadium. Events DC also built and now serves as landlord for Nationals Park, the first LEED-certified major professional sports stadium in the United States. For more information, please visit http://www.eventsdc.com.
Safeway
Safeway Inc. is a Fortune 100 company and one of the largest food and drug retailers in North America, based on sales. The company operates more than 1,600 stores in the United States and western Canada. Safeway supports a broad range of charitable and community programs, annually donating and raising more than $250 million to important causes, such as cancer research, education, hunger relief and programs focused on assisting people with disabilities.
###