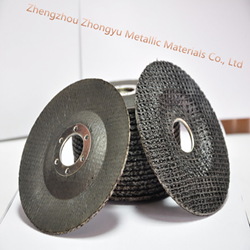 Zhengzhou, China (PRWEB) November 28, 2014
According to iAbrasive, Zhengzhou Zhongyu Metallic Materials Co., Ltd., a Gold Member of iAbrasive.com, introduces one of its featured products – fiberglass backing pads.
According to Zhongyu, the fiberglass backing pads are designed for flap discs. The products use reinforced fiberglass cloth as raw material and combine with pure phenolic resin, and are scientifically solidified under a stable high temperature. Zhongyu produces two types of fiberglass backing pads: flat and conve; both are even in thickness, strong in quality, and are acid and alkali resistant and durable, which serve as a first choice for the new generation flap discs.
The company owns several years' professional producing experience of fiberglass backings, and has developed series of impregnation equipments which has realized the dipping treatment of multi-layer fabrics. Its annual production has been stable at 60-70 million for three consecutive years, with average daily production capacity reaching 400,000 pieces to 500,000 pieces.
The company produces a complete series of specifications at a reasonable price. Zhongyu is capable of transforming the production equipment independently to achieve better efficiency and produce high-quality products ranging from low-end to high-end. Zhongyu also possesses technology and can made parts itself. The company offers fast delivery for orders in bulk and free sample of goods for customers' reference. So both Zhongyu and its fiberglass backing pads are popular among customers from all over the world.
Zhengzhou Zhongyu Metallic Materials Co. Ltd. is an entity enterprise specializing in the research & development, manufacturing and sales of fiberglass backing pads, one-component epoxy resin glue and two-component epoxy resin glue.
Zhongyu has long been favored and recommended by both domestic and foreign customers with highly efficient production capacity, stable product quality, reasonable price and sincere services. Zhongyu has established a long-lasting cooperative relationship with many well-known enterprises, and the one-component epoxy resin glue have been sold throughout the country in large quantities. Next, the company plans to expand the scale of production and keep innovating so as to provide first-class products and services continuously.
See more fiberglass backing pads at: http://www.iabrasive.com/search?q=fiberglass+backing+pad&slug=abrasives-manufacturing.
Copyright: iAbrasive.com--Abrasives & Diamond Tools Market