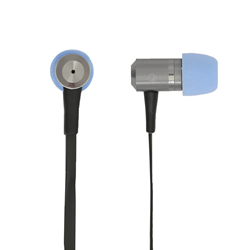 Our goal has always been to provide people with the most comfortable listening experience, but we also want to provide our customers with the most comfortable shopping experience
Los Angeles, CA (PRWEB) November 30, 2014
It is the busiest shopping weekend of the year, and AirBuds, creator of the Most Comfortable Earbuds, is ramping up the savings in order to woo holiday shoppers. Their 'Cyber Monday Blowout,' which runs through Dec. 1, offers customers 40% off all AirBuds products and free domestic shipping. The sale will be AirBuds' biggest of the year and will be featured on all of their online marketplaces, including Amazon, Open Sky and the AirBuds website.
The sale gives shoppers a chance to cash in on big holiday savings, but also serves an important purpose for the company. With their most profitable month of year just kicking off, AirBuds hopes to clear out their current inventory in order to make way for the release of their new and improved Fit-All foam tips in Mid-December. The new tips, made from a higher quality polyurethane foam, promise to be even more comfortable and long-lasting than their predecessors.
Anticipating record sales this year, AirBuds has made it easier than ever for customers to participate in their holiday sales.
"Our goal has always been to provide people with the most comfortable listening experience, but we also want to provide our customers with the most comfortable shopping experience," said Nick Waterhouse, CEO and founder of AirBuds. "That's why, this year, our Cyber Monday discounts are already in effect on all of our online marketplaces. No pesky coupon codes required. Customers automatically save, simply by heading to checkout."
To participate in AirBuds' holiday sales, customers can visit any one of AirBuds' online marketplaces and place their order on or before Dec. 1.