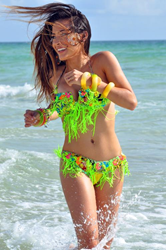 You will never see another woman wearing a one of a kind "Maggie May" bikini,"
East Village, New York (PRWEB) December 01, 2014
The store, located at 207 Avenue B is chock-full of unique one-of-a kind pieces, all created by New York artist Magdalena (Maggie May) Trever.
"I love the holidays and wanted to throw a little party for all my customers who tell me they love the store and the whole 'Maggie May' vibe," said Maggie. "Nothing makes an artist happier than when someone enjoys what they create."
Included in the new gift ideas are beautifully framed artwork, jewelry boxes, collectibles, vintage watches, pendants and jewelry of all kinds as well as hand knitted scarves and gloves.
Additionally for the woman going on vacation for the holidays Maggie May offers the city's most unusual assortment of Resort Wear including knitted bikinis, monokinis, dresses, skirts, coverups and shorts.
"You will never see another woman wearing a 'Maggie May' bikini," said Maggie. "I have over 100 styles, all one of a kind, knitted from the softest bamboo yarns and richly embellished with Swarovski crystals, seed pearls and genuine Czechoslovakian glass buttons."
Store hours are 11AM- 9PM daily, located at 207 Avenue B in the East Village, NY. Prices range from $25 to $585. maggiemayswimwear.com or call 248-563-4771