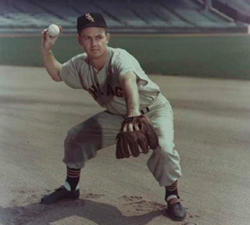 "Nellie played the game with all his heart, all his passion, and with every ounce of his being."
Franklin County, PA (PRWEB) November 30, 2014
Franklin County Visitors Bureau honors one of its "Favorite Sons" in December – Nellie Fox
December 25th marks the 87th anniversary of one of Franklin County's "favorite sons" -- Jacob Nelson "Nellie" Fox, a member of the Major League Baseball Hall of Fame. The St. Thomas native was born on Christmas Day, 1927.
"Nellie", as he was known, became a major league baseball player in 1947. During his 18 year career, Fox played for the Philadelphia Athletics, Chicago White Sox, and Houston Astros. Most He played most of his career for the Chicago White Sox (1950-1963).
After playing as a back-up player for the Athletics, Fox was traded to the White Sox on October 29, 1949 for Joe Tipton. Fox became the starting second baseman for the White Sox and played on ten American League All Star teams. He won the league's Golden Glove Award in 1957, 1959 and 1960 for the league's best fielding second basemen.
For his career, Fox was a 12 time-All Star and the 1959 American League Most Valuable Player, with most of those awards coming as the second baseman for the White Sox.
During his remarkable major league playing days, Fox had 2,663 hits in 9,232 at bats giving him a .288 lifetime batting average. He struck out just 216 times in his entire 19 year career and once went 98 straight games without striking out. To put those strike out numbers in perspective, former Chicago White Sox player Adam Dunn struck out 222 times in one season (2012) in just 539 at bats.
Nellie led the American League in hits four times, in games played five times, in singles seven years straight. He had the league's best fielding percentage six times, while leading the league in double plays five times, and had the fewest strikeouts in the league eleven times. In 1951 and 1958 seasons, the scrappy second baseman struck out just 11 times the whole year, with over 600 at bats over each season.
Whitey Ford, former New York Yankee ace pitcher, said about Fox. "Nellie was the toughest out for me. In twelve years, I stuck him out once and I think the umpire blew the call."
His former manager Al Lopez said about Fox, "He wasn't fast and didn't have an arm, but he worked hard to develop what he needed to make himself a good all-around ballplayer. If you had eight Nellie Foxes, all with his spirit and determination, I think you'd have a winning team."
Lopez also said, "Fox is what you'd call a manager's ballplayer. He does his job expertly, and he does it every day. He's the type of player you can count on. He's an old pro. A great many times, he is hurting pretty badly from the dumpings he's taken on the field, but he's always ready to play."
In 1959, Fox led the White Sox to their first American League pennant since 1919. The White Sox would not win another league championship until 2005.
Following his playing career, Nellie Fox was a coach for both the Houston Astros and the Washington Senators/Texas Rangers.
Nelson "Nellie" Fox died of skin cancer in 1975. During his original eligibility for the Hall of Fame, he got 74.7% of the needed 75% to be elected. In 1997, the Veteran's Committee elected him to the Hall of Fame.
His wife, Joanne, spoke at the induction ceremony on August 3, 1997. At the induction ceremony, she said, "Nellie played the game with all his heart, all his passion, and with every ounce of his being."
Fox is one of only twenty second basemen and one of only 211 former major league players who have been inducted into the Baseball Hall of Fame in Cooperstown, New York.
A marker in St. Thomas reads as follows: "Known for his passion and work ethic, Fox was an A.L. MVP (1959), a 3-time Gold Glove Award winner, and a 12-time All Star. His boyhood home stands nearby."
His plaque in the Hall of Fame reads as follows:
PHILADELPHIA, A.L., 1947-1949
CHICAGO, A.L., 1950-1963
HOUSTON, N.L., 1964-1965
SURE-HANDED SECOND BASEMAN AND SKILLFUL BATSMAN WAS A CATALYST FOR THE "GO-GO" WHITE SOX OF THE 1950s. A 12-TIME AMERICAN LEAGUE ALL-STAR WHO NEVER STRUCK OUT MORE THAN 18 TIMES IN A SEASON, HIS STRIKEOUT TO AT BAT RATION BEING THE THIRD BEST ALL TIME. ONVE WENT RECORD 98 GAMES WITHOUT A STRIKEOUR. PLAYED RECORD 798 CONSECUTIVE GAMES AT SECOND. LED THE LEAGUE IN HITS FOUR TIMES, PUTOUTS 10 TIMES, FIELD PCT. SIX TIMES. WON 1959 A.L. MVP HONORS BY HELPING CHICAGO TO ITS FIRST FLAG IN 40 YEARS.
The Franklin County Visitors Bureau invites all to explore Franklin County PA and enjoy the history, arts, recreation, natural beauty, fresh food, and warm hospitality of communities like Chambersburg, Greencastle, Mercersburg, Shippensburg, and Waynesboro. Franklin County PA is located just north of the Mason Dixon Line and an easy drive to Washington DC, Philadelphia, and Pittsburgh. Discover more....plan your visit at http://www.ExploreFranklinCountyPA.com or by contacting 866.646.8060.