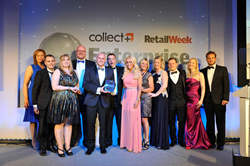 (PRWEB UK) 1 December 2014
Double delight for Better Bathrooms have won the Employer of the Year Award and the prestigious Retailer of the Year Award at the 2014 Collect+ Retail Week Enterprise Awards.
The winners of the 2014 Collect+ Retail Week Enterprise Awards were announced on 25 November at the Grosvenor House Hotel, London. These awards celebrated fast-growing, entrepreneurial retail companies and the people behind their success.
To help fund his professional golfing dream, Wigan born Colin Stevens CEO of Better Bathrooms began at just 21 selling taps out of his bedroom on eBay. Coming from an area with little opportunity, his story is one of true success, with Better Bathrooms' 13 year journey seeing the North West based multi-channel business now the UK's largest independent retailer of bathrooms and tiles.
Operating a hugely successful online store at http://www.betterbathrooms.com, six showrooms in Manchester, Warrington, Wigan, Slough, Leicester, and York, two warehouses, a distribution hub in Didcot, a transport hub in Birmingham along with two trade counters in Leigh and Didcot; Better Bathrooms in manned by ever growing team of now 299. By consistently reinvesting company profits to encourage growth, Colin has developed a thriving retail business.
Specialising in offering customers the very best value within such a highly competitive industry, Better Bathrooms' business model has remained the same from day one, keeping strong with their company slogan of 'Better Prices, Better Service, Better Bathrooms'.
Colin Stevens, CEO of Better Bathrooms said: "I am ecstatic to have won two awards, I have spent a lot of time trying to create the perfect inspirational working atmosphere with incentives and benefits, so to win Employer of the Year is an honour. To also walk away with Retailer of the Year is additionally amazing! When I started Better Bathrooms I never thought it would become a multi-channel, nationwide retail business achieving such phenomenal success. To be surrounded by the UK's top business leaders and talent at the Retail Week Enterprise Awards was an achievement in itself, and to win two awards is the cherry on the cake.
Colin added: I want to inspire budding entrepreneurs across the UK. After all, I started out with nothing, just selling taps from my bedroom in Wigan. Anyone can create a hugely successful business, entrepreneurialism isn't something you're necessarily born with, it's all about learning and being truly dedicated to what you believe in."
George MacDonald, Executive Editor, Retail Week, concludes: "This is a great time in the UK, as innovative companies continue to grow, helping to ensure the country's future economic success. That's why we want to mark the importance of emerging companies and put them in the spotlight at this fantastic awards ceremony. Retail Week wanted to create a platform upon which we could shine a spotlight on these success stories – highlighting future industry leaders and demonstrating the brands shaping the future of the whole sector."