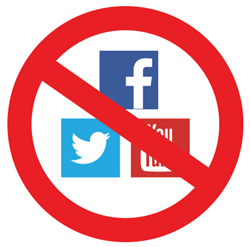 We all need to pay attention to what we are saying about each other.
(PRWEB) December 02, 2014
Lexington Christian Academy students recently spent two days, two hours and two minutes in the non-electronic wilderness to raise awareness of how often they engage with the interruptions and noise that social media creates in their lives. By reconnecting with the simple pleasures of life such as face-to-face communication, reading, and even silence, LCA students saw for themselves how much emphasis they were placing on electronic relationships.
"I waste so much valuable time checking my phone," said LCA junior, Delaney Wells. "I didn't think it mattered because I look at it so briefly. But when I added up all those quick glances I realized it was a lot of time!"
This initiative, designed by LCA faculty member Mr. Rob Scaro, was inspired by the work of Henry David Thoreau who moved to the woods of Concord for two years, two months and two days to contemplate a more reflective way of life. 165 students and faculty participated in the event vowing to give up their electronics to bring awareness to some of the harmful aspects of social media overuse.
"I thought it would be impossible!" said Wells. "I spend so much time on my phone that I don't even realize what I am reading. I think cyberspace can be a pretty mean place when we aren't paying attention to what people are really saying. It's easy to forget how much can go wrong."
Bullying has devastating effects such as school avoidance, loss of self-esteem, increased anxiety, and depression. "I am concerned that students don't realize just how much time they devote to meaningless or empty electronic activities, "said Mr. Scaro. "Spending too much time on those kinds of activities fosters a hazy, thoughtless approach to daily life that dramatically increases the potential for both intentional and unintentional bullying."
We read, daily, about the devastating effects this is having on our young people. Another LCA student added this observation, "I came from a big public high school and cyber-bulling was definitely more common there. But it can happen anywhere. We all need to pay attention to what we are saying about each other."
At LCA, students engage in Peer Issues Group activities to increase awareness of how to best help one another and build positive relationships. Small group meetings each Wednesday morning also provide a time set apart to discuss better ways for our students to cope with the challenges that fast-paced technology brings into their lives. Additional efforts like The Thoreau Challenge highlight LCA's commitment to important conversations and open communication.
Head of School, Mr. Timothy Russell was pleased by all the positive feedback from parents. And after speaking with students about their tech-free experiences he added, "I am impressed by our students' desire to engage further in the reflective life."