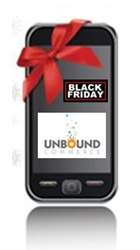 Clients are untethered from the constraints of their ecommerce operations and this allows them to treat mobile as a distinct element of the omnichannel experience, and take maximum advantage
Boston, MA (PRWEB) December 02, 2014
On Friday November 28, a broad index of 350+ retailers on the Unbound Commerce platform saw a same-store, aggregate increase in mobile commerce revenue of 144.3%, as compared to the same holiday shopping kick-off day last year.
The rapid adoption of mobile commerce by consumers can be seen by the fact that the percentage of Unique Users grew 48.2%, while Mobile Sessions delivered to those users grew a disproportionate 71.5% and the number of Mobile Pageviews rendered jumped by 79.3%. Repeat usage by consumers who discover and buy from mobile sites is growing.
While Mobile Revenue grew 144%, the number of Mobile Transactions that drove this revenue increased slightly less at 134%. The Average Pages Per Session only grew slightly from 6.53 to 6.86. (5.03%), indicating that the path to purchase is speeding up and the intent to buy strengthening.
The average mobile order value (AOV) across the index was $92.92, up just slightly from $90.05 last year (3.18%). For perspective, the mobile AOV in 2012 was $22.30 less at $70.62.
Interestingly, the percentage of New Sessions fell 21%, from 73% in 2013 to 58% in 2014, indicating that returning customers are becoming a big part of the success story. Once a great mobile-specific experience is discovered, consumers come back, shop again, and trust builds.
"We are blown away by these Black Friday numbers", said Wilson Kerr, Unbound Commerce VP Business Development and Sales. "Our clients now see mobile as the fastest-growing channel they have, and they are reaping the benefits of the"from whole cloth" approach we employ. Clients are untethered from the constraints of their ecommerce operations and this allows them to treat mobile as a distinct element of the omnichannel experience, and take maximum advantage", he added.
About Unbound Commerce
With more mobile site deployments than any other solution provider, Unbound Commerce is the industry's #1 provider of mobile commerce solutions for online retailers and brands. Unbound's low-IT approach means an ecommerce integration can be leveraged to deliver dedicated mobile and tablet commerce sites, commerce-enabled apps, and in-store kiosks. Unbound also delivers free marketing tools to help retailers and brands bridge online and offline consumer touch points, at point of sale. Unbound has built and deployed mobile and tablet sites for Shoe Carnival, Rockport, Finish Line, Patrick James, Miller Coors, Adam and Eve, Calli & York, The New England Patriots, Cavenders, FLOR, and over 350 other retailers. For additional information, please visit http://www.UnboundCommerce.com.