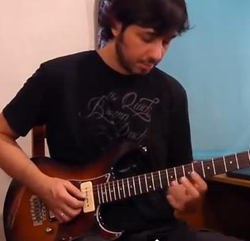 (PRWEB) December 01, 2014
Gaby Soule demonstrates this cool lead guitar lick in the style of Paul Gilbert in the key of C#m (C sharp minor) based in the pentatonic scale as follows. 7th fret of the 5th string with 4th finger and pull-off to the 4th fret with first finger and then to the 7th fret of the 6th string with 4th finger. Next Soule moves back to the 4th fret of the 5th string with first finger and does a hammer-on to the 7th fret with 4th finger to the 4th fret of the 4th string with first finger and then back to the 5th string for another pull-off from the 7th to 4th frets. Gaby continues this lead guitar lesson by demonstrating how to incorporate the blue note into the sequence. Guitar TAB's are available for this easy lead guitar lesson at GuitarControl.com.
A Pentatonic Scale is a musical scale with five notes per octave and is very common and found all over the world.
Paul Gilbert is a virtuoso guitarist from Carbondale Illinois best known for being a member of Racer X and Mr. Big and has also released numerous solo albums and guest appearances on other albums.
Gaby Soule
Gaby Soule is a guitarist, composer and singer originally from Argentina but has lived and worked in Spain as a musician and guitar instructor for many years. He has released several albums with his own projects and with other artists. He's been a member of many bands in Argentina and Spain. Gaby has worked with other groups touring Europe and South America, and played with bassist Rudy Sarzo (Whitesnake, Ozzy Osbourne, and Dio), Walter Giardino (Rata Blanca), La Renga and other artists like Andres Calamaro. He combines his activity as a guitar instructor in Madrid, Spain, as well as being an online guitar teacher. Gaby is currently writing new material for his upcoming project.
About GuitarControl.com
GuitarControl.com is the leader in modern guitar instruction. It's packed with resources including articles, video lessons, and the best videos in the business for the beginner to the advanced guitar student taught by the best instructors out there. Weather you are into the blues, rock, jazz, metal, folk, or anything in between, they have you covered.