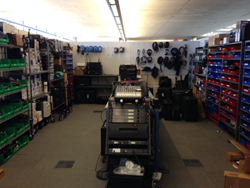 We wanted an inventory system that anyone on our team could learn, and learn quickly, since as the saying goes, 'Rock and Roll never sleeps'
San Jose, CA (PRWEB) December 02, 2014
ASAP Systems, a market leader in cutting-edge barcode inventory systems, recently developed inventory solutions for audio-electronics giant Shure by implementing Passport, its client-server system. By upgrading to an automated inventory solution, Shure was able to improve visibility and accountability over equipment. Shure also saved time and money by streamlining the equipment check in/check out processes and preemptively alerting Shure of potential inventory problems.
Passport's barcode-based capabilities eliminated Shure's dependence on manually entering inventory data, and prevented numerous record-keeping errors that accompanied their previous system. Shure's Artist Relations Department (AR) utilized printable barcodes and wireless mobile scanners to quickly log the movement of audio equipment in and out of the system. The intuitive point-and-scan solution improved tracking accuracy and expedited inventory processes.
Nelson Arreguin, an AR associate at Shure, explains the benefits of using ASAP Systems' efficient equipment checkout tracking, "the magic is in the check-in process…minimizing the steps to find and prep the equipment for the next artist allows for a much faster check-out when we're racing the clock to catch the UPS truck."
Passport's built-in reporting feature made it easy to quickly locate which assets were on hand, and pinpoint the locations of those assets in a timely fashion. The AR department also benefited from Passport's alert functionality, which would automatically send out notifications whenever equipment quantities became low—due to checkouts—or needed to be replaced. The reporting and alerting functionalities ensure that inventory maintenance is taken care of on time, and eliminate the costs of inventory overstocking and understocking.
In the unpredictable world of show business, ASAP Systems was able to help Shure keep their equipment in order and support their sponsored artists. Read the full Shure success story here.
About ASAP Systems
ASAP Systems is a market leader in inventory management and asset tracking systems that uses barcode and RFID technology with barcode scanners, smartphones, and tablets. We help improve profitability by eliminating manual data entry, paper files, and forms and by automating record keeping. With our online inventory and asset system, businesses know 24/7 how and where assets and inventory are received, stored, used and disposed of in the warehouse, in the field, and in the office.
About Shure Americas
Shure Incorporated, founded in 1925, is widely acknowledged as one of the world's leading manufacturers of high-performance audio electronics such as microphones, earphones, audio systems, and more.