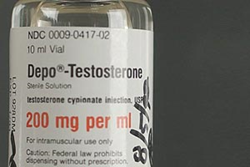 If you would like to learn more about filing a testosterone lawsuit, contact The Oliver Law Group P.C. for your free case review by calling toll free 800-939-7878 today or visit www.legalactionnow.com
Chicago IL (PRWEB) December 03, 2014
Testosterone Lawsuit News: The Oliver Law Group P.C. notes that the number of testosterone replacement therapy lawsuit filings continue to increase in a multidistrict litigation currently pending in the U.S. District Court, Northern District of Illinois. Court documents show that there are 259 lawsuits filed in the Northern Illinois federal court as of November 17, 2014. The testosterone lawsuit complaints have been filed against manufacturers of testosterone products on behalf of men and their survivors who allege that they have suffered heart attacks, blood clots, strokes and death as a result of taking prescription testosterone products such as AndroGel, Androderm and Testim. In June, a federal judicial panel transferred all testosterone lawsuits, regardless of the manufacturer named as the defendant, and centralized the complaints in the Northern Illinois federal court. U.S. District Judge Matthew F. Kennelly is supervising the pretrial proceedings in the consolidated litigation.
(In re: Testosterone Replacement Therapy Product Therapy Litigation – MDL No. 2545)
[jpml.uscourts.gov/sites/jpml/files/Pending_MDL_Dockets_By_District-November-17-2014.pdf, November 17, 2014]
Court documents indicate that attorneys for plaintiffs and defendants in the testosterone multidistrict litigation in the Northern Illinois federal court are preparing for bellwether trials in 2016. On November 6, 2014, U.S. District Judge Matthew F. Kennelly issued a Case Management Order (CMO) directing the parties to submit a process by July 11, 2015, for selecting 16 lawsuits that only name AbbVie, which produces AndroGel and other testosterone products, as a defendant. According to Judge Kennelly's CMO, the 16 AbbVie lawsuits will be divided into two tiers, with eight testosterone complaints alleging cardiovascular injuries, such as heart attack, and eight lawsuits alleging thromboembolism clotting injuries, such as deep vein thrombosis (a blood clot forming in a deep vein), pulmonary embolism (a blood clot in the lungs) and other clotting cases. The final 16 cases are to be selected by October 31, 2015, with core bellwether discovery beginning on November 1, 2015 and continuing into January 15, 2016. Judge Kennelly has scheduled six bellwether trials for AndroGel lawsuits between October 2016 and April 2017.
(In re: Testosterone Replacement Therapy Product Liability Litigation – MDL No. 2545)
The U.S. Food and Drug Administration (FDA) approved testosterone therapy replacement products to treat hypogonadism, or low testosterone levels, in men with an underlying medical condition. In January, the FDA announced it was investigating the risk of stroke, heart attack and death in men taking FDA-approved testosterone gels, patches and injections. In addition to studying these cardiovascular events that are related to blood clots in the arteries, the FDA is also monitoring the risks of blood clots in veins associated with testosterone use. In June, the federal agency directed testosterone manufacturers to add a general warning on their testosterone drug labels about the risk of blood clots in veins. The FDA noted that testosterone manufacturers already have a general warning on the labels of their testosterone products about the risks of deep vein thrombosis as a result of polycythemia, an abnormal increase in the number of red blood cells that sometimes occurs with testosterone treatment. The FDA said it was requiring the change because the agency had received post-market reports of venous blood clots that were not related to polycythemia.
[fda.gov/Drugs/DrugSafety/ucm383904.htm, January 31, 2014]
[fda.gov/Drugs/DrugSafety/ucm401746.htm, June 19, 2014]
Court documents indicate that a testosterone replacement therapy lawsuit was filed against Ely Lilly & Co. on behalf of a man who alleges that he suffered a pulmonary embolism and deep vein thrombosis as a result of taking Axiron prescription testosterone gel. The testosterone lawsuit states that the man was prescribed Axiron in April 2011 to treat symptoms attributed to a low testosterone condition and continued using the gel until around August 2012. The testosterone complaint alleges that in October 2012, the man was diagnosed with a pulmonary embolism and deep vein thrombosis and was hospitalized. The Axiron lawsuit alleges that the man is at an increased risk for additional cardiovascular disease, cerebrovascular accidents and death and will have to take medication for the rest of his life. The lawsuit purports that Ely Lilly failed to warn about Axiron's side effects and had the company fully disclosed the risks of the testosterone medication, the plaintiff would not have taken Axiron in the first place or would have limited the dosage and length of use of the testosterone medication. The lawsuit was filed in the U.S. District Court, District of Minnesota.
(Case No. 14-cv-04149)
About The Oliver Law Group P.C. And Filing A Testosterone Lawsuit
Oliver Law Group P.C. is a different kind of law firm. One that focuses on the needs of the injured first. A compassionate law firm dedicated to fighting for the rights of victims and their families, and doing everything necessary to ensure those rights.
The experience of a large firm. The 1-on-1 dedication of a small firm. A reputation built on trust.
Experience. Dedication. Trust. Oliver Law Group P.C.
If you would like to learn more about filing a testosterone lawsuit, turn to the law firm with the Experience, Dedication, and Trust you deserve. Contact The Oliver Law Group P.C. for your free case review by calling toll free 800-939-7878 today.