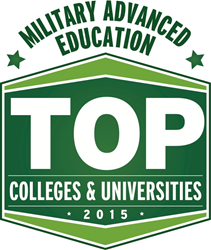 Flagstaff, AZ (PRWEB) December 16, 2014
Military Advanced Education (MAE) has awarded Northern Arizona University (NAU) the designation of a Top School in its 2015 MAE Guide to Colleges & Universities, measuring best practices in military and veteran education. The Guide was released in the December issue of MAE.
The Guide presents the results of a questionnaire of the military-supportive policies enacted at more than 600 institutions including private, public, for-profit, not-for-profit, four-year, and two-year colleges. From community colleges to state universities, online universities and nationally known centers of higher learning, MAE's 2015 Guide to Colleges & Universities arms students with information about institutions that go out of their way to give back to our men and women in uniform.
This year, institutes were evaluated on their military culture, financial aid, flexibility, on-campus support and online support services. Each school's performance rating by category is represented in an easy-to-read dashboard. This enables prospective students to quickly target the schools, like NAU, that follow best practices in military education, and then put these in context with other academic or career considerations.
"We believe the Guide serves as an invaluable tool for both education services officers and transition officers when advising servicemembers about their educational opportunities," said Kelly Fodel, MAE's editor. "We used strict criteria to individually evaluate the submissions of respondents, and we had a record number of schools participating this year."
"Not only is the 2015 Guide printed in our December issue of Military Advanced Education, but also published in a searchable database online," Fodel said. "We designed this database with the military student in mind. We want to help them make informed choices, so we are giving them access to all the survey questions and answers provided by the schools, as well as explanations about critical issues like activation and deployment policies, withdrawal policies, scholarship and financial aid information and important support information."
This is the third time this year that NAU has been recognized for its commitment to its military and veteran students. NAU was ranked on Military Times' Best For Vets: Colleges 2015 list and by US News & World Report as a provider of Best Online Bachelor's Programs For Veterans.
Access MAE's 2015 Guide to Colleges and Universities here or pick up a copy of the December issue of Military Advanced Education.
About The Extended Campuses of Northern Arizona University: For more than 30 years, the Extended Campuses of Northern Arizona University has delivered a respected, accredited and affordable university education to students wherever they want to learn. Non-traditional students, including working adults, are empowered to advance personally and professionally through a network of more than 30 satellite campuses throughout Arizona and extensive online options offering over 100 degrees, certificate and endorsement programs across various disciplines. NAU-Extended Campuses continues to introduce innovative educational options to fulfill the growing need for public administrators, health professionals, teachers, business experts and community leaders within the state of Arizona, and beyond. To learn more about The Extended Campuses at Northern Arizona University, go to http://www.nau.edu/extended.