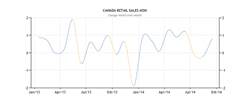 Actual retail sales for Sep 2014 appreciated by 0.8% reaching $42.8 billion
Toronto, Canada (PRWEB) December 03, 2014
This article highlights the Canadian economy and the retail sales figures achieved in September 2014, which have emerged into a fast growing economy with positive rates; feeding the Canadian marketplace with maturity in the year's gross domestic product (GDP), consumer confidence and the stock market... Read More
MONEXgroup clarified the following factors which led to the Canadian economic growth:
1. Consumer Spending on cars and housings
2. Cars & Parts rose by 3.4% in September 2014 reaching $10.5 billion
3. Cars & Parts sales led by light trucks with 8.1% increase over the last 12 months
4. Home furnishing sales rose 1.3 %, reaching $1.38 billion
5. Electronic & Appliance had four straight increase in sales; gained 1.2% reaching $1.26 billion
MONEXgroup reflected its support to retailers and their daily payment processing systems to the positive economic changes for 2014. According to the sales figures achieved in September 2014, and as retailers are experiencing growth in the (automotive, furniture and appliances services), MONEXgroup has continued to provide reliable, secure and effective payment solutions to all merchants across Canada.
Featured Products and Services: MONEXgroup provides measures to assess the quality of service to retailers and determines the right payment solution fitting their unique business needs. Our featured products are:
1. In-Store Payments – VX810 Duet
2. On-the-Go Payments – iWL250
3. Virtual Payments – eCommerce Solutions
4. Integrated Payments – Integrated Solutions
MONEXgroup Message To Retailers: "When partnering with the number one payment processor in Canada; MONEXgroup will increase your cost efficiency and quality of service. Request a Cost Comparison Analysis today by visiting MONEXgroup.com.