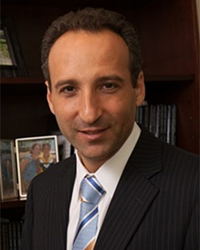 Newburgh, New York (PRWEB) December 03, 2014
Dr. Ran Y. Rubinstein, one of New York's most respected facial plastic surgeons, has introduced a new state-of-the-art laser hair removal treatment to his practice designed to achieve superior results in patients. The treatment, Cynosure Apogee Elite, has proven to be one of the most effective laser hair removal treatments available today.
According to Dr. Rubinstein, Cynosure Apogee Elite laser hair removal is effective because it contains both the Alexandrite and Long Pulsed YAG lasers in the same system. This allows his staff to switch lasers back and forth based upon the skin type and unique needs of patients.
Cynosure Apogee Elite is ideal for removing hair efficiently in both men and women. Dr. Rubinstein said the most popular hair removal areas his team treats in women are facial hair, under arms, the bikini area, and legs. The most popular areas of treatment for men are the back and the chest.
Dr. Rubinstein explained the differences between Cynosure Apogee Elite and similar procedures offered by other plastic surgeons are quality, value, and the highly specialized care his staff provides patients. He said patients that seek laser hair removal from high volume discount spas, skin care clinics, or plastic surgeons that use substandard laser technologies typically do not achieve the best results possible and can place the patient at higher risk for potential complications such as burns and skin color changes. Dr. Rubinstein further cautions to avoid clinics that rent their lasers as they are often out of date and inferior devices. In addition, laser hair removal procedures are frequently performed by technicians that accompany the lasers and not the clinic's own staff or physicians.
"What one thinks is a bargain often ends up being much more costly because these inferior lasers often require many more treatments to achieve satisfactory results. Some of these laser clinics end up going out of business leaving their clients without any recourse," said Dr. Rubinstein.
All treatments are supervised by Dr. Rubinstein further ensuring optimal and safe outcomes. Furthermore, only highly skilled and trained medical staff perform all laser hair removal services at Dr. Rubinstein's office including Marissa Martinez, a medical esthetician, who has worked with Dr. Rubinstein for four years and has more than 10 years of experience. She trained with some of the top physicians in her field and works diligently to keep up-to-date on the latest skin care technologies. Lisa Thayer, who is a nurse practitioner for Dr. Rubinstein's practice, joins Martinez in administering laser hair removal services. Lisa Thayer joined the practice in 2012 and was has trained by Dr. Rubinstein who has trained hundreds of cosmetic physicians and nurse practitioners on laser treatments and injectables.
Dr. Rubinstein is double board certified by the American Board of Otolaryngology-Head and Neck Surgery and the American Board of Facial Plastic Surgery. He is a member of the American Society for Laser Medicine & Surgery. Additionally, Dr. Rubinstein is an assistant professor at Columbia-New York Presbyterian Hospital where he is passionate about training young facial plastic surgeons for their future careers.
Based in Newburgh, New York, Dr. Rubinstein is an expert in facial plastic surgery & laser procedures and only offers the best technology for all procedures including Fraxel fractional laser treatments for skin resurfacing, and CoolSculpting to remove stubborn fat. Dr. Rubinstein is sought out for his Rhinoplasty techniques and state-of-the-art certified surgical suite.
More information about Dr. Rubinstein and his practice, please visit: http://www.yourfacemd.com
Ran Y. Rubinstein, M.D..
Laser & Cosmetic Surgery Specialists, PC
845-863-1772
200 Stony Brook Ct #2
Newburgh, NY 12550