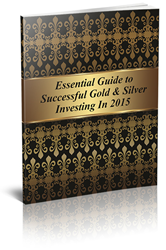 The guide for 2015 features many changes over the previous year's guide. "New data and new forecasts about the state of the coming economy required us to review our material and make changes to our Investment Guide,"
Los Angeles, CA (PRWEB) December 03, 2014
As part of RC Bullion's ongoing mission to provide the highest level of customer service to both its active and prospective clients, its research department has created a new up-to-date investment guide for the year 2015. The new report will reflect changes to the gold and silver markets and the economy at large. These adjustments to the report will help clients make the best and most informed decisions regarding their own investment needs.
The guide for 2015 features many changes over the previous year's guide. "New data and new forecasts about the state of the coming economy required us to review our material and make changes to our Investment Guide," says John Rozdzielski, Managing Director at RC Bullion. "The coming year could be an interesting one for investors and we wanted to present our clients with the most accurate and timely information on IRAs, 401(k)s, and gold and silver investing."
Highlights from the updated guide include:

Changes in the rules for IRAs
Amendments for rollovers and transfers of retirement accounts
Possible turns in the gold and silver market for the coming year
Suggestions for the best coins for investment
"Two-thousand fourteen was a year of low volatility for gold and our guide for the year reflected that," says Rozdzielski. "Next year has some predicting that the return of the decade long bull market and we want our new guide to prepare our clients for what could be an exciting year."
To learn more about retirement plan investing in gold and other precious metals, please visit http://www.rcbullion.com/LPs/RCBlp2.html or call (213) 465-4835.
Things to Know Before Making Important Investment Decisions
RC Bullion has created a new informational mini-course to help both experienced and inexperienced investors make informed decisions about gold or silver-based IRAs. It was designed to cover a variety of common questions and pitfalls and to help investors make informed decisions as to whether investing in precious metals is right for them.
"We created this course," Rozdzielski said, "to include information full of tips and expert advice to help an investor make decisions that could save them thousands of dollars."
This informational course may be downloaded at: http://www.rcbullion.com/LPs/RCBlp.html
About RC Bullion:
Since 1998 the founders of RC Bullion have been trading precious metals and have become a trusted national leader in adding precious metals into individual retirement accounts. They are specialists in conversion, transfers, and rollovers of existing IRAs or former 401(k)s into precious metals. They also can provide investors with a wide range of physical products delivered safely and securely to their doors.