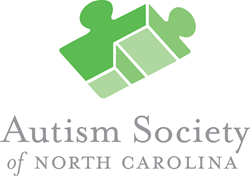 Melissa helps Davis continue to learn and grow. The future for him is better with her in his life.
Raleigh, NC (PRWEB) December 04, 2014
The Autism Society of North Carolina has named Melissa Mulcahey of Asheville as the 2014 winner of the John and Claudia Roman Direct Service Award. The annual award honors a direct service employee of the Autism Society of North Carolina (ASNC) who has demonstrated outstanding dedication to individuals with autism and their families. Mulcahey is a community skills instructor who has worked for ASNC for five years.
"Direct support professionals are the backbone of all ASNC does; they make a tremendous difference every day in the lives of the families and individuals we serve," said Kari Johnston, ASNC's director of services. "We are pleased to be able to acknowledge them with the Roman award, which also raises public awareness about direct support professionals and the important work they do."
Jillian Martin, one of the mothers who nominated Mulcahey for the award, said that when Mulcahey came to work with Martin's son Jace four years ago, she immediately learned the Applied Behavior Analysis program that the family was using with him.
"Jace's skills flourished soon after she joined what we call Team Jace," Martin wrote. "His vast improvement in language, reading, and completion of tasks were a direct reflection of her countless hours and tireless efforts to make Jace successful."
Debra Walker wrote in her nomination that her son Davis was in a "major rut" at his one volunteer job. "Davis isn't overly bothered by change but he does hate monotony." When the family found him another one where he could learn new skills and meet new people, "Melissa facilitated the transition, the training and all the acclimation to the new job."
She also helped make his move into a new house smooth. "Melissa helps Davis continue to learn and grow. The future for him is better with her in his life," Walker wrote.
Martin agreed that Mulcahey's influence could not be underestimated. "It's because of people like her that our kids are loved and accepted, our families are comforted, and we can all attempt to have the most 'neurotypical' life possible," Martin wrote.
Mulcahey received a cash award of $1,000 and will be recognized at the Autism Society of North Carolina's annual conference in March in Charlotte. ASNC received many nominations for the award, demonstrating families' appreciation for the life-changing work that direct support professionals do every day.
The John and Claudia Roman Direct Service Award was endowed by Lori and Gregg Ireland to honor Christine Roman, the direct service professional who worked with their son, Vinnie. It was named for her parents, John and Claudia Roman.
Background:

Autism Spectrum Disorder (ASD) is a lifelong developmental disability that typically appears during the first three years of life. Recent studies estimate that up to 1 of every 58 children born in North Carolina will be affected by ASD.
For more than 44 years, the Autism Society of North Carolina has worked to address areas of need and expand services for the autism community in North Carolina. ASNC works to directly improve the lives of individuals affected by autism by providing advocacy, education, and services.
For more information, call 1-800-442-2762 or visit http://www.autismsociety-nc.org.