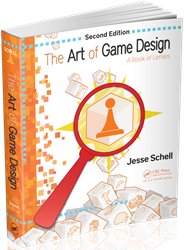 "It's been six years since The Art of Game Design was released, and so much has changed since then! The indie movement, and the rise of mobile, social, and free-to-play gaming are all big changes since the first edition" says Schell
Boca Raton, Fla. (PRWEB) December 09, 2014
CRC Press is pleased to announce the release of the new edition of one of its bestselling titles The Art of Game Design: A Book of Lenses by Jesse Schell. The first edition, which won the 2008 Game Developer Front Line Award, has sold thousands of copies and helped countless students and game designers learn how to create top-quality games that people want to play over and over again.
"It's been six years since The Art of Game Design was released, and so much has changed since then! The indie movement, and the rise of mobile, social, and free-to-play gaming are all big changes since the first edition was released," says Jesse Schell about the gaming industry. "I've tried to update the book to account for all of those, and on top of that, I've learned a great deal more about game design since then, and I've tried to put that in there, too."
In the second edition of The Art of Game Design, there are two new chapters, one about "venues," that is, how the game fits into your life, and also a new one about motivation, which incorporates a lot of what Schell has learned about the nature of human psychology in the last six years. There are also 12 new lenses, and each chapter now has suggestions for further reading, so you can dig further into topics by reading the same weird obscure stuff he does. The hundreds of updates in the book include tips about designing for free-to-play, when and when not to crowd fund your game, and how to go indie without losing your shirt. And of course, an updated deck of cards will be sold alongside the book, as a handy design tool. And there will be a free app for Android and iOS, to boot!
"I could not think of a better name for this work because game design isn't a skillset, it's a Tao: a way of looking at the world. This was perhaps the most important thing that Jesse ever taught me," exclaims James Portnow, Game Designer, CEO of Rainmaker Games, and Writer of Extra Credits. "It is the principle lesson of this book. Each section individually is a lens and tool in your designer's tool belt but, taken as a whole, they form a system of thinking that will allow you to tackle problems well beyond their scope. … this book trains you to think as a designer."
Jesse Schell is Distinguished Professor of Entertainment Technology for Carnegie Mellon University's Entertainment Technology Center, a joint master's program between the school's College of Fine Arts and School of Computer Science, where he teaches game design and leads research projects. He is also the CEO of Schell Games, LLC, an independent game studio in Pittsburgh. He was formerly the Creative Director of the Walt Disney Imagineering Virtual Reality Studio and Chairman of the International Game Developers Association. In 2004, he was named one of the World's 100 Top Young Innovators by MIT's Technology Review.
About CRC Press: CRC Press is a premier publisher of scientific, technology and medical resources, reaching around the globe to collect essential reference material and the latest advances and making them available to researchers, academics, professionals and students in a variety of accessible formats. CRC Press is a member of Taylor & Francis Group, an informa business. For more information, visit http://www.crcpress.com
If you would like more information about this topic, please contact Christopher Manion at 561.998.2508 or email at chris.manion(at)taylorandfrancis(dot)com.
# # #