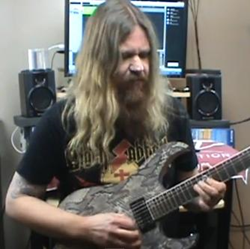 (PRWEB) December 03, 2014
GuitarControl.com released a new video guitar lesson from GuitarControl.com instructor Darrin Goodman. In this guitar lesson, now available on YouTube.com, Darrin Goodman teaches a guitar lesson on the use of Dyads.
Darrin starts off this easy rhythm guitar lesson by performing a riff that is made up of various dyads. Goodman continues by explaining the theory of dyads and how to construct them based from the notes of the major scale. Darrin demonstrates how to play dyads for the following intervals; major 6th, minor 6th, perfect 5th, diminished 5th, perfect 4th, major 3rd and minor 3rd. Guitar TAB's are available for this easy rhythm guitar lesson at GuitarControl.com.
A Dyad is two musical notes or pitches played together to make up a two note chord. On guitar these types of chords are often referred to as power chords with the most common interval being root and fifth. Since an interval is the distance between two pitches, dyads may be classified by the interval each entails. When the pitches of a dyad occur in succession, they may be regarded as forming a melodic interval. When they occur simultaneously, they may be regarded as forming a harmonic interval.
The major scale, aka the Ionian Mode, is a seven tone diatonic scale that is widely used in western music. The eighth duplicates the first at double its frequency so that it is called a higher octave of the same note, which its name is derived from Latin "octavus", the eighth.
Darrin Goodman
Darrin Goodman, a native of Ogden Utah, began playing guitar at the age of 12 after hearing KISS at an earlier age. Darrin has been a local finalist for the King of the Blues contest and is the lead guitarist of international recording artist Sonic Prophecy who has performed with artists such as Accept, Sabaton Cinderella and Ratt. Darrin has been teaching private lessons to 30 to 60 students a week from his home studio since 1987.
About GuitarControl.com
GuitarControl.com is the leader in modern guitar instruction. It's packed with recourses including articles,video lessons, and the best videos in the business for the beginner to the advanced guitar student taught by the best instructors out there. Weather you are into the blues, rock, jazz, metal, folk, or anything in between, they have you covered.