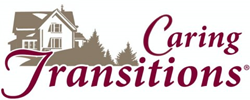 Spokane, WA (PRWEB) December 03, 2014
Michael Begley knows a few things about managing the estates of loved ones when they downsize or pass away, including how overwhelmingly stressful it can be – he helped with the estates of both his parents and his grandmother. That's why, when he decided to open his own business, Caring Transitions was a natural fit.
Begley just opened Caring Transitions of Spokane. This local franchise serves Greater Spokane, Spokane Valley, South Hill, Millwood, Veradale, Liberty Lake and the surrounding areas.
Caring Transitions is America's largest resource specializing in managing senior relocations, downsizing and estate liquidations. In addition to the organizing, packing and move oversight, Caring Transitions can handle on-site and online estate sales, liquidations, and preparing homes for market. Whether your situation is planned or unexpected, Caring Transitions offers a streamlined support system to help facilitate a less stressful transition or clear out a home.
"I know what it's like to deal with trying to clear out a home and prepare it for sale when it's full of memories or, in some cases, packed to the gills after years of hoarding. It's a really long and stressful process that often comes at a huge emotional expense and, in some situations, can wreck families. Bringing in Caring Transitions can help you detach and handle these situations more efficiently and effectively," Begley said.
Before opening Caring Transitions of Spokane, Begley worked in technology for 15 years at several companies, including Microsoft, and most recently served as the Director of Technology for The Taylor Study Method. He specializes in making complex problems simple, project management and testing processes to increase efficiency. He's looking forward to bringing those skills to his Caring Transitions clients.
"Going through the home of someone you care about is always a sensitive and stressful situation, but it doesn't have to be. We are here for whatever the client needs. I'm not here to sell our suite of services to every client. I want people to know that we're here to provide the services they need and to offer outside resources – like mediation or estate planning – if needed. We create a tailored solution based on every situation so you only get what you need to help make your transition painless and stress-free," Begley said.
Although Caring Transitions was created to help seniors who are moving in with family or into a safer living situation as well as for families clearing out the home of a loved one who has passed, the services are also a great fit for busy adults who need help relocating or in situations like divorce. Begley also offers general home-clearing and organizing services.
Begley is a Certified Relocation and Transition Specialist, a designation bestowed by an independent organization that evaluates providers of senior relocation services. Caring Transitions of Spokane is bonded and insured.
Overall Begley wants his community to know that Caring Transitions is a trusted resource they can come to during some of the most challenging times in their lives.
"When we cleared out my grandmother's home, we found important estate documents in the freezer – because she knew someone would have to clean it out – and cans and jars of cash throughout the house. I want people to know that, when they hire Caring Transitions, if we come across things like that, they'll be returned to the family. You can entrust your home and the belongings of your loved ones to us," Begley said.
Founded in 2006, Caring Transitions is a trusted and highly respected national company leading the way in senior relocation, household liquidations and estate sale management in more than 150 locations across the United States. Caring Transitions is part of the International Franchise Association, the Small Business Association's Franchise Registry, VetFran and Minority Fran.
To learn more about how Caring Transitions of Spokane, call (509)381-1724, email MBegley@CaringTransitions.net or visit http://www.CaringTransitionsSpokane.com.
About Caring Transitions
Caring Transitions, founded in 2006, is the first national franchising concept specializing in senior relocation and transition services. With 150 locations throughout the United States all owned and operated by Certified Relocation and Transition Specialists, Caring Transitions provides clients with supportive moves, auctions, rightsizing and transitions. This includes expert advice plus a well-executed transition plan beginning with the initial sorting of personal belongings through packing, shipping and selling of items to the final clearing and cleaning of the property. For more information, visit http://www.caringtransitions.com or visit us on Facebook or Twitter.
Caring Transitions is part of Strategic Franchising Systems. It is a member of the International Franchise Association, the Small Business Association's Franchise Registry, VetFran and Minority Fran.