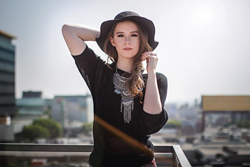 I remember lying in bed thinking that I needed to rethink my entire life.
(PRWEB) December 04, 2014
Singer-songwriter and AMTC Graduate, KȆTA is teaming with the LymeLight Foundation and Stageit for a special benefit show that will stream live on Thursday, December 4th at 5pm pst.
 
The concert will benefit the  LymeLight Foundation, an organization that helps children and young adults with Lyme disease to receive proper treatment and medication, as well as raise awareness about the disease.  
 
Fans can catch the show on Stageit (http://www.stageit.com), a live streaming platform that enables artists to deliver and monetize exclusive live performances while allowing fans to tune in and interact anywhere in the world from their mobile device or computer.
 
Raising funds and awareness for victims of Lyme disease is a cause near and dear to Kȇta's heart. At age 10, a case of Lyme disease triggered a fast and drastic decline in her health. Misdiagnosed for a year, Kȇta entered an advanced stage of the disease and a challenging health crisis. "My life was all doctor's appointments, tests, needles and experiments with different medications," recalls Keta. "I remember lying in bed thinking that I needed to rethink my entire life and who I was going to be." Thanks to successful treatments, determination, and the grace of God, Kȇta began her recovery at age 12, eventually fighting her way back to health. Born into a musical family, Kȇta's drive to create songs played a huge role in the healing process. "It's always been my passion," she says. "I can't imagine doing anything different with my life."
"LymeLight Foundation is grateful that Keta will be sharing her talent and enthusiasm in support of our mission," states LymeLight Foundation's Development Director Phyllis Bedford. "We applaud her willingness to get involved. She will be an incredible encouragement to our grant recipients, especially since she is close in age. By triumphing over Lyme Disease and pursuing her dream, Kȇta will bring hopes of healing to those suffering. Kȇta's music and lyrics will be an inspiration to all."
The December 4th show will see Kȇta performing songs from her new EP, Generation Call, a stunning atmospheric blend of softly curved melodies, lush electronics and honeyed vocals singing irresistible hooks. She'll also be performing new song  "Wooden Horses," which can be heard here: https://soundcloud.com/ketamusic/wooden-horses.
 
The EP follows a buzz-generating string of west coast dates held earlier this year, when Kȇta opened for fast-rising Capitol artist Sam Smith. The shows, her first-ever live performances, prompted Restless Cities to describe her as "quite a force" and Buzz Bands LA to compare her sound to the likes of Mumford & Sons and write, "if pop songs with thoughtful melodies, intricate banjo and stomping percussion is your thing, then you'll most likely be hitting the repeat button after first listen."
 
Don't miss your chance to catch Kȇta live on Stageit December 4th at 5pm PST.
 
http://www.whoisketa.com/
facebook.com/WhoIsKeta
@KetaMusic
http://lymelightfoundation.org/
http://www.stageit.com