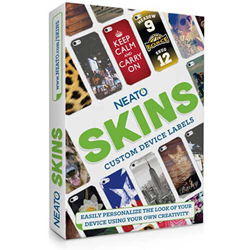 Orange, Connecticut (PRWEB) December 04, 2014
A national TV commercial campaign has been launched for the NEATO Skins product. NEATO Skins makes it easy to design, print and apply skins for cell phones and devices right at home. People are always getting frustrated with spending so much money on custom cell phone cases. Now, people can buy the NEATO Skins product which are all custom made for specific cell phones and by using Neato's Online Design Software, people can now design at home and also print at home. No more waiting for a new skin to ship. The best part is, NEATO skins are easily removable, people can put one on and remove it and apply a new one anytime, its easy.
The NEATO skins kit comes with a clear cell phone case as well as 5 blank skins and the online software. Any other clear cell phone case can be used as well.
There are 3 Easy Steps:
DESIGN: Upload photos, add text and more. We made it easy to use. Even draw on them. Create awesome skins in minutes
PRINT: Use a printer to print out the finished design directly onto the premium removable self-adhesive paper.
APPLY: Simply peel the NEATO Skin from the sheet & position it on the cell phone. Just press & smooth it out by hand.
Have fun creating an endless supply of new skins!
The NEATO Skins Introductory price is Only $19.99