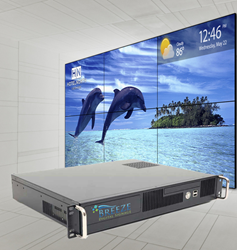 This is an ideal technology for creating larger-than-life images that are attractive, affordable and reliable.
LENEXA, KS (PRWEB) December 04, 2014
Keywest Technology has launched a multi-head digital signage player using a powerful Intel® Core™ i7 CPU running on an Ubuntu® open source software platform. The multi-head player supports up to six 1080P channels, which provide a total resolution of 11,520 x 6,480 pixels, giving it the ability to create impressive video walls using thin bezel LCD screens. The player is controlled via the company's cloud-based digital signage service called Breeze Digital Signage®.
Breaking tradition from the miniature-sized media players that are common today, the multi-head player is housed in a rugged 1.5RU server chassis that is designed for 24/7 operation. It uses an integrated six-port HDMI display card with Mini DisplayPort outputs. The chassis also uses a beefy 400W PSU with two internal cooling fans and a typical front to back flow-thru design for superior heat management.
"Our 6-head digital signage player gives system integrators, interior designers and architects an attractive choice for designing large displays with readily available thin-bezel LCD technology," commented Keywest Technology's President Nick Nichols. "The 6-head digital signage player is designed to work with all commercial-grade LCD products, allowing AV designers to implement video walls or menu arrays with only a few components. This is an ideal technology for creating larger-than-life images that are attractive, affordable and reliable."
The Breeze Multi-Head 6 player is really two products in one. First and foremost, it is a digital signage media player. The player connects to a cloud server to download and cache content automatically or based on a schedule. Automatic content is typically sourced from built-in widgets that pull data from Internet or third-party sources. The widgets allow for multiple weather, news and RSS feeds, but third-party providers deliver syndicated and customized content feeds.
Another way of controlling content is by scheduling playlists through an online editor. The 6-head player can be easily controlled from anywhere using the Internet. For example, an administrator or assigned user logs in to their secured account on the BreezeDigitalSignage.com website. From there, access is given to upload media, create playlists, and schedule playlists based on date and time of day. Advanced digital signage management tools like nested playlists, an advertising module, and an admin approval queue are also provided.
The second function of the 2-in-1 multi-head player is the multi-screen controller, which performs similarly to a video wall controller. The supplied setup software allows up to 6 screens to be configured, either in landscape or portrait orientation. This gives some variation and flexibility on the outcome, with users deciding to have individual content on each channel or preferring to spread content to all of the displays combined. In either scenario, the displays must all be of the same model and resolution, with 1080P being the preferred default.
The Breeze Multi-Head 6 is being delivered now, with several notable installations including the fully restored and updated Orpheum Theater in downtown Omaha, Nebraska. AV system integrators, architectural media designers and digital signage resellers are encouraged to inquire for more information on the Breeze Digital Signage website: http://www.breezedigitalsignage.com/
About Keywest Technology
Keywest Technology is an authentic developer of digital signage technology and a full-service provider offering solutions from simple playback to large multi-sign and interactive networks. Keywest builds systems with a holistic approach that includes key software technologies, creative design, system design, and comprehensive support plans. Based in Lenexa, Kansas, the company is dedicated to making business communication as enjoyable as a day at the beach. For more information, visit http://www.KeywestTechnology.com.
Intel is a trademark of Intel Corporation in the U.S. and/or other countries.
Ubuntu is a registered trademark of Canonical Ltd.
Breeze Digital Signage is a registered trademark of Keywest Technology, Inc.