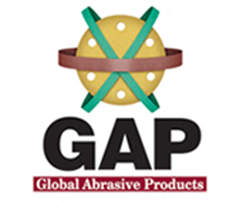 Global Abrasive Products, Inc Sources Abrasive Rolls on iAbrasive.com
Zhengzhou, China (PRWEB) December 06, 2014
As an international abrasives B2B webportal, iAbrasive.com provides matchmaking services for abrasive buyers and suppliers to sell and buy abrasive products. It is a platform where influential abrasive companies, such as Saint Gobain, and Norton Abrasives, source materials. Recently, Global Abrasive Products, Inc, a qualified abrasive products manufacturer in the U.S, has become a buyer on iAbrasive.com.
Previously called Future Abrasives, Duraline Abrasives, and Pres-On Abrasives, Global Abrasive Products, Inc (GAP) was formed in 2004. Its three manufacturing facilities, totaling more than 90,000 square feet, have a work force of over fifty experienced employees providing quality abrasive products to the abrasives industry. GAP's core values center on service, quality, competitiveness, and product breadth.
Service
GAP's state-of-the-art equipment, lean manufacturing methods and continuous improvement programs are constantly pushing it to provide the best delivery in the abrasives industry. GAP's commitment to service is evident in the vast inventory of stocked finished goods, such as abrasive belts, PSA and hook & loop discs, cut-off wheels, depressed center wheels, fiber discs, sticks and stones, and numerous other ready-to-ship abrasive items.
Quality
GAP's quality starts with the selection of raw materials and abrasives from only the best sources in the industry, such as the effective B2B webportal – iAbrasive.com. GAP focuses on product performance and consistency so that customers will be guaranteed to obtain the same results order after order.
Competitiveness
GAP has one of the lowest minimum order requirements, some of the best terms, and a liberal freight allowance policy. It can drop ship directly to customers with no additional charge. In addition, GAP's sales team is able to provide special pricing on large volume business when needed.
Product Breadth
GAP uniquely offers coated, bonded, and non-woven abrasives from many suppliers around the world. Its breadth of line and seemingly unlimited products enables it to offer customers a single source alternative for all of their abrasive needs.
iAbrasive.com also helps many other international abrasives buyers to find matched suppliers by publishing timely notice on its official blog (http://www.iabrasive.com/blog/). iAbrasive provides online showrooms for abrasives suppliers of all types, and matches them up with buyers seeking raw materials and abrasives components. The webportal started in 2012 as an international B2B abrasives platform, written in English, to accommodate international buyers, such as Global Abrasive Products, Inc.