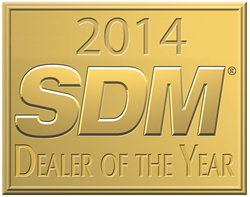 ADS Security has implemented the right recipe for success — by offering the kind of customer service that will create 'raving fans'.
Nashville, TN (PRWEB) December 04, 2014
ADS Security (ADS), a regional electronic security company based in Nashville, Tenn., was named today as the 2014 Dealer of the Year by SDM magazine. The annual award, which was launched over thirty years ago, recognizes ADS for inspiring their peers with the distinct ways they've approached their business, the industry, and the community around them.
This recognition comes during a year in which ADS has grown its presence in the Southeast through the purchase of five security companies in Tennessee, Alabama, South Carolina and North Carolina. These purchases have earned the company 6,500 new customers and over $175,000 in recurring monthly revenue.
"ADS, SDM's 2014 Dealer of the Year, uniquely embraces the traditional qualities of security and peace of mind, while delivering what today's customers need through advanced technologies of mobility, automation, and the cloud," said Laura Stepanek, editor of SDM. "And as a growing security company, ADS has implemented the right recipe for success — by offering the kind of customer service that will create 'raving fans'."
"This award is recognition of the power of a simple idea - when inspired employees work together with a commitment to delivering legendary service to their customers there is no limit to the success they can achieve," said ADS President & CEO, John Cerasuolo. "I salute each and every one of our employees for making ADS a company worthy of this prestigious award."
SDM founded its Dealer of the Year Award in 1980 to recognize one company each year that demonstrates unmistakable success, a high level of innovation, the consistent use of industry best practices, and notable growth and accomplishments in the security systems industry. A panel of judges ranks candidates based on five criteria: Stability of the company and its appeal as a prospective employer; Pattern of long-term growth; Market strengths and viability of business plan; Company accomplishments; Industry and community participation.
ADS was selected for this prestigious award for numerous achievements, some of which were cited in the December issue of SDM:

Maintaining a low attrition rate (8.05% in 2014) through a focus on quality customer service, vertical integration, and its presence within the communities it serves.
Using technology to create outstanding customer service, which results in "raving fans."
Actively measuring customer satisfaction with a Net Promoter Score (NPS)-based survey to see what is working and what is not – ADS currently boasts an NPS score of 73, which puts it in the same range as some of the best U.S. companies.
Continuing to invest in new (emerging) products that are evaluated within its internal technical support department and staying active with various vendor training sessions focused on emerging technologies.
Growing steadily year-over-year in revenue and RMR by aggressively expanding into automation services and through closing multiple acquisitions.