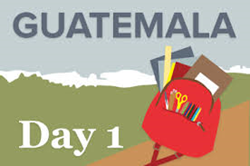 When children learn they can make a difference in solving big problems, like world hunger, it gives them a sense of confidence and purpose. Learning about other cultures also gives them greater vision for their own lives
Phoenix, Ariz. (PRWEB) December 05, 2014
This holiday season, Food for the Hungry (FH) is pleased to share the Food for the Hungry 12 Days of Christmas e-book, an interactive countdown to December 25. Sharing Christmas traditions from 12 different countries, the e-book offers parents a tool to teach children about cultures around the world.
The book also shows how some of the 1 billion children who live in poverty are able to survive, and how those in the U.S. can make a difference in their lives. Each story highlights a special gift from the FH Catalog that can help a child and his family overcome poverty.
For example, Day 4 of the 12 Days of Christmas e-book tells the story of Odette, a young girl in Burundi. Odette's mother tells her about the war in their country where many people, including children, were killed. Despite the tragic past, Odette's mother maintains a positive outlook and explains the importance of caring for others, as their family does by sharing vegetables from their garden. The story concludes with a link to the FH Catalog where one of the items is the gift of vegetable seeds that can help provide nutrition and income to families living in poverty.
"The book was created to help parents gently introduce their children to poverty and to show them how they can help," said Jeremy Reis, Director of Digital Marketing at Food for the Hungry. "When children learn they can make a difference in solving big problems, like world hunger, it gives them a sense of confidence and purpose. Learning about other cultures also gives them greater vision for their own lives."
The free e-book can be viewed at fh.org/12days.
Founded in 1971, Food for the Hungry provides emergency relief and long-term development programs with operations in more than 20 countries to help the world's most vulnerable people. Learn more by visiting http://www.fh.org. Social connections include http://www.facebook.com/foodforthehungry and http://www.twitter.com/food4thehungry.