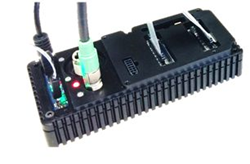 With the large choice of imagers and LED lighting and projector options combined with embedded i-Cite3D™ 3D industrial applications can be moved from the core engineering development team out to the applications team
Ann Arbor, MI (PRWEB) December 05, 2014
The Coherix Shark platform is a unique high performance industrial embedded imaging solution that is ideal for multi-imager applications such as 3D Vision. Utilizing the newest Intel Atom Bay trail CPUs and high speed PCIe interfaces the compact board set eliminates the need for framegrabbers by embedding the processing. The unit includes high end features such as GigE and USB3 interfaces as well as up to 1TB internal storage.
In addition to the supporting multiple imagers the Shark platform supports multiple light sources including Laser and DLP projectors. The latest Coherix product configured from the Shark Platform contains 4 imagers, 4 lasers and utilizing i-Cite3D™ can process over 2,000 frames per second operating all 4 imager/laser pairs simultaneously.
This combination of the Shark hardware platform and i-Cite software reduces time and effort significantly for new 3D Sensor development. i-Cite3D™ software has provided a very flexible and rapid 2D and 3D Machine Vision application development solution for many years.
Dave Kelly, Vice President Engineering and Research & Development, of Coherix states "The Shark Platform currently supports .3MP, 2MP and 4MP imagers. Our roadmap includes adding support for 8MP, 12MP and 20MP imagers. With the large choice of imagers and LED lighting and projector options, combined with embedded i-Cite3D™ application software, configuring solutions for 3D industrial applications can be moved from the core engineering development team out to the applications team."
Coherix designs and delivers high-speed, high-definition, 3D metrology and inspection tools for product development and the management of manufacturing processes for the precision manufacturing and semiconductor industries. Headquartered in Ann Arbor, Michigan the company has technical centers in Europe and the Asia Pacific region. Coherix products are being utilized around the world at companies such as ASE, SPIL, Marvell, BorgWarner, Ford, Honda, Allison Transmission, Chrysler, General Motors, Micron, Infineon, John Deere, Volvo Technology Transfer and Aisin among others.