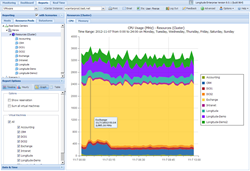 This increases the need for monitoring software that can accommodate multiple hypervisors and provide a single pane of glass view into the health and availability of IT resources.
Braintree, MA (PRWEB) December 09, 2014
Heroix, developer of application performance and network monitoring software, today introduced its Longitude Hyper-V Solution so that companies can monitor the Microsoft® Hyper-V hypervisor.
Longitude is a feature-rich, easy-to-use, affordable monitoring solution that companies use to track the health of IT infrastructure: multiple operating systems, web servers, databases, messaging and networks. This new offering follows the Heroix solution for performance monitoring of VMware's vSphere. The Heroix solution is so popular that sales of Longitude for VMware® Edition rose by 36 percent in a year.
Heroix now offers performance monitoring of the two market-leading hypervisors. Gartner, Inc.'s report, The Magic Quadrant for x86 Server Virtualization Infrastructure, published in July, 2014, positioned only two hypervisors in the leaders' quadrant … VMware's vSphere and Microsoft's Hyper-V.
"We understand that companies with large IT environments may adopt more than one hypervisor for different types of applications, workloads and infrastructure, or while they are integrating new technologies such as OpenStack into their IT strategy," explained Rick Lane, CEO, Heroix. "This increases the need for monitoring software that can accommodate multiple hypervisors and provide a single pane of glass view into the health and availability of IT resources. Heroix is meeting that need for our customers."
The new Heroix solution provides Hyper-V users with mission-critical operational information about their virtual environments, including virtual machines (VMs), applications, and the host servers.
The Heroix software helps companies monitor hypervisors along with other applications and networks, to reduce the expense of duplicate monitoring software and the need to learn multiple monitoring technologies.
Longitude helps companies quickly pinpoint, troubleshoot and repair problem areas so they can offer high service levels. IT is quickly alerted via dashboard displays, email, and/or SMS when Longitude identifies potential problems in the virtual environment. In addition, built-in reports show the health and performance of the virtual infrastructure over time.
Longitude helps keep IT budgets in check by locating and reducing the most costly problems companies face when provisioning virtualized infrastructures: virtual sprawl, over provisioning, and excess use of resources.
The Longitude reporting facility provides feature rich graphics that make it very easy to pinpoint how virtual resources are being used and how to best distribute those resources.
All editions of Longitude are available on tablets and smartphones, providing on-the-go access to information about critical applications, servers, networks, and virtualized 24x7 environments. Heroix designed its own mobile support capability specifically for Longitude, insuring that it avoids common third-party app problems such as instability or poor coding.
For more information and resources on application and network monitoring, visit Heroix's online resource library.
Pricing and Availability
Longitude 9.0 is available now. Please visit Heroix or call 800-229-6500 or 781-848-1701. Heroix also offers a 14 day free trial of all Longitude Editions. Pricing begins at $399.
About Heroix
Heroix Longitude is a proven, self-service applications, network performance, and virtualization monitoring solution. It delivers immediate, comprehensive performance information, at an affordable price, to solve multiple monitoring challenges in companies of all sizes. The agentless software is the fastest and easiest-to-use application and network monitoring software available. Longitude monitors hundreds of vital performance metrics, alerts you to problems, takes corrective actions, and creates reports for everyone, from executives to IT staff. There is no lengthy installation or learning curve; non-IT staff can purchase Longitude and be monitoring within 10 minutes.
Heroix, Heroix Longitude, RoboMon, Heroix eQ, and their corresponding logos are registered trademarks of Heroix. All other company and product names mentioned are used only for identification purposes and may be trademarks or registered trademarks of their respective companies.