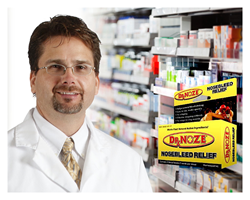 Greg states, "Besides the change in the seasons… individuals taking prescription medications like blood thinners, aspirin and nasal steroids may be surprised that they start experiencing nosebleeds that they've never had before."
Cottage Grove, Wisconsin (PRWEB) December 10, 2014
ByzMed LLC announced today that they have developed one of the first homeopathic approaches to nosebleeds, which is a problem for many around the holidays. Unfortunately it also happens to be the start of nosebleed season. The dry cold outside and the dry indoor heat along with stress creates an environment for the nasal tissues to dry out and lead to embarrassing and annoying nosebleeds. With the winter months 'tis the season for a lot of holiday travel, get-togethers and events nosebleeds are the last thing anyone will want.
Greg Dockter a Pharmacist for a nationally recognized drug store chain invented DRxNoze® the perfect solution for the millions of people of all ages that end up with nosebleeds. This patented homeopathic gel is applied directly inside the nose and can stop most nose bleeds in 60–seconds using ingredients that help to speed clotting and constrict blood vessels to stop the nose bleed. The gel formulated with natural active ingredients is applied to the problem area and in most cases the bleeding stops in one-minute without forming a large clot at the surface of the bleed – eliminating the need to pack the nose with gauze or tissues.
Typically nosebleed sufferers have to reach for a lot of tissue, toilet paper or towel, anything to stop the bleeding and keep the blood from staining their clothes, furniture and carpet. It can take up to 5 minutes or more to stop the bleeding. With DRxNoze® Nosebleed Relief, most nosebleeds can be stopped in 1-minute, allowing you to return to your activities quickly and reduce the time of discomfort.
Greg Dockter is one of the many people that suffer from frequent nosebleeds. During one occasion a patient visiting the pharmacy developed a nosebleed and the best solution he could offer was a tissue, this prompted him to develop his own nosebleed relief product DRxNoze®.
Greg states, "Besides the change in the seasons… individuals taking prescription medications like blood thinners, aspirin and nasal steroids may be surprised that they start experiencing nosebleeds that they've never had before."
Every year millions of people around the world will end up with colds and suffer from sinus infections. Those with irritated nasal passages are susceptible to nosebleeds.
DRxNoze® Nosebleed Relief is the result of years of research and is the first common sense approach to solving an age old problem of how to quickly and effectively stop a nosebleed.