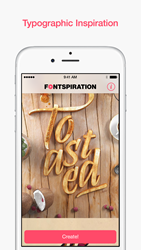 With the holidays just around the corner, it's the perfect app for creating custom eMessages. Tag your creation with #fontspiration and we might just feature you on the Extensis blog and other sites!
Northampton, UK (PRWEB UK) 9 December 2014
Extensis® today released a new Fontspiration™ app for the font nerd in everyone. Whether a professional designer whose creativity never sleeps, or simply a closet designer who likes to flex their creative muscle, Fontspiration enables users to form custom designs and then share their typographic brilliance on Facebook, Instagram, Twitter, and more.
Drawing on hundreds of fonts from Google® Fonts and dozens of built-in animations, Fontspiration is available now for the iPhone® and can be downloaded for free at the App Store.
"Inspiration can strike at any time. Whether you're queuing for coffee or at home on the sofa, Fontspiration allows you to easily create and share animated typographic masterworks, discover new fonts, and browse creative typographic samples to stay creatively inspired," said Jim Kidwell, SR. Product Marketing Manager at Extensis.
Kidwell added: "With the holidays just around the corner, it's the perfect app for creating custom eMessages. Tag your creation with #fontspiration and Extensis might just feature you on the its blog and other sites!"
With Fontspiration, users can:

Make a Masterpiece: Use the app to layer text over photos – or choose any of the included animated themes – enter some text, choose from hundreds of Google Fonts, and customise the type and animation. Fontspiration's custom themes are built by Extensis, which users can select as a background for their typographic animations. Some of these unique themes include:
Film: Jumpy black and white film style a'la Charlie Chaplin
Glitch: How did Max Headroom get in here?
Flow: Your virtual typographic Lava lamp
Streetlight: Create a virtual neon sign
Stopmotion: A little 'Nightmare Before Christmas'
Share Typographic Brilliance: Once created, users can share their images, animated GIFs and video masterpieces on Facebook, Instagram, Twitter, and more.
Get Inspired: Extensis new app includes a daily dose of creative juice from the live Fontpiration feed, featuring a continuously updated collection of creative typography, font specimens and fonts in use.
Share Your Fontspiration!
Want to nerd out with other font geeks? Share your font creations on Instagram and Twitter using #fontspiration.
For more information about the Fontspiration app: http://www.extensis.com/fontspiration
About Extensis Font Management Solutions
Extensis has been leading the way in font management for two decades, with solutions that help enterprises and designers put their best font forward. Products include:
Suitcase Fusion 6, the professional grade font manager which helps customers take full control of their font collection (desktop, web and beyond)
Universal Type Server 5, the popular font server which centralises font libraries, solving the issues of font management, access and compliance
About Extensis
Celebrating more than two decades in business, Extensis® is a leading developer of software and services for creative professionals and workgroups. Their solutions streamline workflows, securely manage digital assets and fonts, and control corporate typographic branding. Used by hundreds of Fortune 5000 companies, Extensis' award-winning server and desktop products include: Portfolio® for digital asset management, Universal Type Server® for server-based font management, and Suitcase Fusion® for single-user font management. Founded in 1993, Extensis is based in Portland, Oregon, and the United Kingdom. For additional information, visit http://www.extensis.com
© Celartem, Inc. d.b.a. Extensis All rights reserved. EXTENSIS, Suitcase Fusion, Extensis Portfolio, Portfolio Flow and Universal Type Server are trademarks or registered trademarks of Extensis in the United States of America, Canada, the European Union and/or other countries. This list of trademarks is not exhaustive. Other trademarks, registered trademarks, product names, company names, brands and service names mentioned herein are property of Extensis or other respective owners
Apple, the Apple logo, iPhone, and iPod touch are trademarks of Apple Inc., registered in the U.S. and other countries. App Store is a service mark of Apple Inc.
Google is a registered trademarks of Google Inc