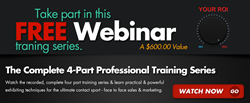 Laura and I had a wonderful time creating this webinar series, and the opportunity to interact with viewers from around the country during the events was invigorating and informative
(PRWEB) December 09, 2014
Following the conclusion of the highly popular webinar series, "How to Make Trade Shows Work for You," EXHIB-IT! is offering a holiday gift: the 6-hour package is now available at no charge by accessing the EXHIB-IT! Blog. The series, presented by EXHIB-IT! and Marketing to Go was designed to help companies maximize their trade show investment. Sponsored by Nomadic Display, the "How to Make Trade Shows Work for You" webinar series delivers a value of more than $600 in training and resources.
The webinar series is divided into four 90-minute segments titled:
"Why Trade Show Marketing?"
"Choosing the Right Trade Show."
"Notable Exhibiting Trends."
"Making the Most of Your Trade Show Presence."
"Laura and I had a wonderful time creating this webinar series, and the opportunity to interact with viewers from around the country during the events was invigorating and informative," said DJ Heckes, EXHIB-IT! CEO. "The pressure is on for companies to optimize their marketing budget. Trade shows, done well, can provide an enormous return on investment. Our webinar series offers actionable ideas to help companies be more successful when participating in these events."
The webinar series is inspired by the book "The NOISE Behind Business: How to Make Tradeshows Work." This well-researched compilation of research, best practices, and ideas from the best and brightest in the tradeshow industry is authored by Chris Kappas and DJ Heckes. Along with the ability to access the webinar, requestors will receive a free copy of the eBook version of "The NOISE Behind Business" and a free Trade Show Exhibitor Checklist Guide designed by Ms. Heckes.
About EXHIB-IT!
EXHIB-IT! is a design and display company with over 23 years' experience in specializing in high quality trade show displays and trade show management services. Industry thought leader and EXHIB-IT! CEO, DJ Heckes has prioritized customer education as a core company value by publishing hundreds of helpful blog posts, online newsletters, white papers on tradeshow related topics and her first book Full BRAIN Marketing.
About Marketing to Go
Laura Furumoto, MBA, is a marketing and PR consultant with over 25 years of experience. She is known as a "get it done" person and describes her services as "Marketing to Go," what you need when you need it, offering strategic planning, marketing, brand management, copywriting and public relations consulting for any sized budget.